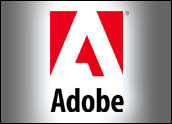 Adobe announced major changes to its business model this week and revealed that from now on, it will sell its software via a monthly subscription plan and forgo boxed software and perpetual licenses.
The maker of popular creative software such as Photoshop and InDesign unveiled the new policy at its MAX conference this week. All of its software newer than CS6 will be sold and updated under the company's Creative Cloud service, which launched last year, rather than through a fixed-rate software package.
Pricing depends on what products people use and how long they are willing to commit. For US$50 per month with an annual commitment, new users can have access to the full suite of software. Existing Creative Suite users would receive a discount of $30 per month for their first year. A month-to-month full suite subscription will be $75 per month, or $70 for a Team version for enterprise users with several employees accessing the software.
Adobe also offers subscriptions to individual programs for users who don't need the entire suite. New users can pay $30 for month-to-month access for limited programs, or $20 per month if they sign on for a year. Current users can get their first limited year for $10 per month.
Teams and educational institutions are eligible for other plans and discounted rates.
Adobe did not respond to our request to comment for this story.
New Model for a New Era
Adobe's change in policy represents a larger industry shift as it moves towards providing software as a service with its Creative Cloud subscriptions.
The company admitted it was unsure how existing consumers would react to the Creative Cloud model when it launched last year, but more than 500,000 premium members opted for the program during its first nine months in the market.
That rapid success shows that today's creative software users are ready for the subscription model upgrade, said Trip Chowdhry, senior analyst for Global Equities Research.
"Adobe is kind of becoming a poster child of how to move from the old world to the new world," he told the E-Commerce Times. "Their strategy is right. The days of shrink-wrapped applications are over, so it makes sense that they're helping a move to a very fast innovation cycle. That's good for consumers."
It's also likely good for the company's bottom line, said Curt Monash, software analyst and strategic advisor at Monash Research. The move could help Adobe bring in a more steady revenue stream while cutting back on pirated copies.
"It's a revenue grab," he told the E-Commerce Times. "In essence, it equates to forced upgrades plus antipiracy measures. Adobe surely hopes customers will wind up paying more."
Tweaking the Plans
Even if the company is heading in the right direction, it doesn't mean Adobe's policies won't need to be tweaked, said Chowdhry.
"Their strategy might be right, but they don't necessarily have all the pieces in place," he noted. "They're going to have to make sure that their pricing model will work out. Existing customers who want access to the whole suite are getting a pretty good deal, but it might be too much for new customers that only want one or two of the products."
In addition, like so many of its peers in the technology industry, Adobe will need to adjust to a growing consumer base that doesn't simply clock into an office and sit at a desktop for an eight-hour workday.
"What is work and what is home has blurred," Chowdhry said. Adobe has to make sure that the work employee and the person who takes that work home at night, or maybe works on different projects for something else, can collaborate. "There are all kinds of issues such as security concerns and the question of people who are going to want to work on multiple mobile devices and in a social capacity, and Adobe is going to have to figure out how to cater to that crowd."
Adobe has the technology to please that base, he added, but how it offers it and executes a business plan will make all the difference.
"They need to figure out a policy and business answer to these dilemmas," Chowdhry said. "There are implications in how much revenue they can extract from people who are going to work at home and at work. Adobe needs to figure out if they're going to look to gain market share or if they want to raise profitability share. If they go for market share, it's more difficult and expensive to grow, but once you have that, the profitability will come."