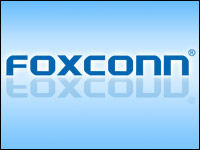 Google reportedly has partnered with Foxconn to advance its foray into robotics.
Foxconn is widely known as the manufacturer of most of Apple's iPhones and iPads. The firm now is working with Google, according to The Wall Street Journal.
Last year, former Android chief Andy Rubin switched gears to lead development of Google's robotics initiatives.
Foxconn Chairman Terry Gou recently met with Rubin in Taipei, according to the Journal, to discuss technology for robotics and ways to speed up deployment of robots at Foxconn's own factories.
Gou reportedly was excited by Rubin's demonstrations of automation technologies, pointing toward a scenario in which Foxconn increasingly could rely on machines rather than humans to carry out its manufacturing processes.
Rubin reportedly asked Gou to help integrate a technology company Google is acquiring. Foxconn has expertise in mechanical engineering.
'Few Competitive Issues'
"Given its size — 1 million or so workers — and experience in building high-quality electronics devices … Foxconn has both the heft and wherewithal to support a serious development effort," Charles King, principal analyst at Pund-IT, told the E-Commerce Times.
"As a more or less pure manufacturing concern, the company also carries few if any potential competitive issues that might concern Google," he pointed out.
Foxconn apparently is looking for ways to boost revenue as its contract manufacturing business slows. It's branching into software development, telecom services, and retail, through its own mobile accessories. Revenue in January was up 0.3 percent from the same month in 2013.
Google recently has been making waves in the robotics industry. The company in December acquired Boston Dynamics, which has created robotics concepts for the military and has a reputation for building robots with a strong sense of balance.
Google acquired seven other robotics companies in the latter half of 2013.
Automation Efforts
The reported partnership is timely for Foxconn, which has been eager to increase automation at its Chinese factories in the face of increasing labor costs and workplace disruption. Gou has been vocal about his plan to create robot-powered factories focused on high-margin products like medical and automobile equipment.
"[Foxconn] needs to automate its facilities to deal with rising labor costs," Jim McGregor, principal analyst at Tirias Research, told the E-Commerce Times, "and since Foxconn is the world's largest electronics manufacturer, it provides a high-profit opportunity for Google. Also, the fact that low-skilled labor is still being used for assembling some of the most advanced electronics devices is a bit ironic."
Foxconn's plan to automate its factories could run afoul of Chinese authorities, however.
"The difficulty for robotics and China is that would put workers out of work, and much of the government effort in bringing manufacturing to China was to keep that huge population happy so it didn't revolt," Rob Enderle, principal analyst at the Enderle Group, told the E-Commerce Times.
"Foxconn's issues tend to revolve around labor practices which are focused on keeping costs down and maximizing the work out of each employee," he pointed out.
"Foxconn would prefer robots — and already treats their workers like machines — but the Chinese government may pressure them not to take this step in order to avoid a trend that could result in massive unemployment and a revolt," Enderle said.
Labor Shift
"Just as we saw with semiconductor manufacturing in fabs, there is a shift from low-skilled labor to high-skilled labor that can operate and maintain the manufacturing equipment. This also means a reduction in the total number of people required to perform that same job and eventually the elimination of most low-skilled labor positions," noted Tirias' McGregor.
"In the end, it provides for a safer and more controlled environment and more high-skilled jobs," he added.
"One could argue that this leaves out the low-skilled workforce, but this transition is usually accompanied with an investment in the local educational system to train people for those higher-skilled positions," McGregor pointed out.
"If Google's efforts succeed," Pund-IT's King suggested, "we may be seeing the beginning of what will eventually be a two-tiered electronics industry where robotically enabled processes are commonly used for high-price and high-value products, and manual assembly is mainly reserved for low-end and low-cost stuff."