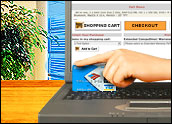 Amid a barrage of troublesome economic reports, a study released Tuesday suggests online sales are expected to take a dramatic turn upward in 2008.
Purchases made over the Internet will shoot up 17 percent and account for 7 percent of retail sales of items ranging from clothing to televisions and computers, reports Forrester Research in "The State of Retailing Online 2008," conducted for Shop.org.
Online sales will reach US$204 billion this year, led by clothing ($26.6 billion), computers ($23.9 billion) and automobiles ($19.3 billion), the report says.
Primary Drivers
Bargains and convenience are the two primary drivers for the expected online sales growth, according to Forrester Principal Analyst Sucharita Mulpuru, the report's lead author.
"What's spearheading online retail sales growth is a tale of two shoppers that visit the Web for very different reasons," she said. "The casual shopper goes online to look for the best price, leveraging the transparency of the Internet to save money. However, more affluent customers appreciate the convenience of shopping online and are not necessarily looking for the best deal. Retailers would be wise to recognize there are significant opportunities within both audiences and should market to them accordingly."
The study indicates that online retailers are at least somewhat insulated from the current hiccups in the economy, said Scott Silvervan, executive director of Shop.org.
"From higher shipping costs to changes in consumer shopping habits, online retailers are not immune to the current economic climate," he noted. "But the fact that online sales will increase substantially this year demonstrates the resilience of the channel and is a testament to the value and convenience most customers find when shopping online."
Retail sales overall are expected to increase 3.5 percent, according to the study.
The study reaffirms an ongoing trend that consumers are becoming more comfortable with online shopping experiences, Michael Souers, retail analyst with Standard & Poors, told the E-Commerce Times.
"Absolutely, online retail is taking [market] share and likely will continue to do so because of several factors," he noted. "First, the consumer is really feeling the pinch with higher gasoline prices, [and] housing markets and wealth not going up because of the stock market. So, they're cutting back, and the easiest way to price compare or get the best price for an item is to look online."
The convenience factor is not insignificant either, Souers noted. "Typically, online shops are fairly well set up. It's so easy and convenient to buy. And they're also earning the trust of consumers who were once afraid to buy online."
More Comfortable With the Experience
Consumers also are becoming more tech-savvy and are less reluctant to make purchases online, Souers added. "After making small purchases, they feel comfortable making larger ones."
Online retailers allocate 53 percent of their marketing budgets to attracting online customers and 21 percent to keeping them, according to the report. However, retailers also are learning that traditional acquisition programs, such as search engine or affiliate marketing, also are effective.
Retailers report that search engine marketing continues to be the most effective way to reach new customers, citing 35 percent of sales coming that way, notes the study. As a result, the study found 90 percent of retailers use pay-for-performance search placement, and 79 percent said they will make this tactic an even greater priority this year. Companies are also using offline marketing tactics to drive customers to the Web, with catalogs and other direct mail pieces taking priority over methods like television and newspaper advertising.
The economy's role in online sales may be overstated, at least in some cases, NPD Group analyst Stephen Baker told the E-Commerce Times.
"We continue to see what we believe are impacts from the overall economy in both (online and traditional brick-and-mortar store) areas," said Baker, who focuses on electronics sales. "We've seen areas where housing prices have fallen and housing starts have fallen, and we've seen rates in some electronics categories have slowed. We know there's an impact there."