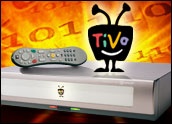 TiVo stock skyrocketed Thursday following news that it had won its long-running court case against sister companies Dish Network and EchoStar.
Specifically, a federal appeals court affirmed a previous contempt finding against Dish and EchoStar for violating a court-ordered permanent injunction to stop making and selling their digital video recorder (DVR) technology, which had previously been found to infringe TiVo patents.
"We are persuaded that there was clear and convincing evidence before the district court to find that both types of EchoStar receivers continue to infringe and that it was not an abuse of discretion for the court to find EchoStar in contempt of the infringement provision," the ruling states. "We have considered the EchoStar's remaining arguments and do not find them persuasive. Accordingly, the judgment of the district court is affirmed."
TiVo stock soared 52 percent to US$15.50 in midday trading Thursday; by Friday morning, it had shot up further to $17.98.
$300 Million in Damages
TiVo not only expects to receive the roughly $300 million in damages and contempt sanctions awarded for EchoStar's continued infringement through July 1, 2009, but also plans to seek further damages and contempt sanctions for continued infringement beyond that date.
Dish and EchoStar, meanwhile, vowed to pursue the case further via an en banc review by the full Federal Circuit. The companies also plan to propose another design-around on their technology.
'Herculean Effort'
DVR technology allows users to fast-forward, rewind, pause and replay "live" television broadcasts.
Following the earlier ruling of infringement, EchoStar claimed it undertook a "Herculean effort" to redesign its product to avoid infringing TiVo's patents. It paid 15 engineers to spend 8,000 hours on the yearlong redesign, resulting in what it said was an inferior product, but that nonetheless was free of infringement, in the view of a "respected patent law firm," the ruling notes.
TiVo, however, argued that EchoStar's modifications were trivial, and the court agreed, buoying the outlook for TiVo's chances of success in its related litigation against AT&T, Verizon and Microsoft.
'Flush with Victory'
"Whenever hundreds of millions of dollars are at stake, appeals will most likely be made," Merchant & Gould partner Raymond Van Dyke told the E-Commerce Times. "Here, Judge Rader dissented, and Dish has asked for an en banc ruling, hoping that other judges will agree with Judge Rader."TiVo, meanwhile — "flush with victory against Dish — plans to ride that wave in further lawsuits," Van Dyke noted. "However, different technologies may well fall outside the TiVo patents."
Indeed, service providers are "struggling to develop a solution that's quite as intuitive as TiVo has turned out to be," Kurt Scherf, vice president and principal analyst with Parks Associates, told the E-Commerce Times.
'Lots of Room' for IP Licensing
As a result, "it seems like TiVo still has lots of room to license its intellectual property into the service provider community," he noted.
The ruling, then, "reinforces the fact that Tivo has a good direction going in terms of its ability to license the technology," Scherf added. "The courts are basically saying that service providers can't do it on their own."
Juxtaposed with Apple's recently launched case against HTC, in fact, "you have to wonder if Apple and TiVo have set the bar so high that it will be very difficult for other companies to replicate what they're doing without patent infringement," he concluded.
'It Won't Be Much'
If TiVo is successful in the full court case, EchoStar would have to pay license fees on a per-box basis, Michelle Abraham, a principal analyst with In-Stat, pointed out.
"That certainly helps TiVo's revenues," she added.
For consumers, however, "I don't think it means a whole lot," Abraham told the E-Commerce Times.
"TiVo will license the technology to other producers," she explained. "If the fees are passed through to consumers, it won't be much."