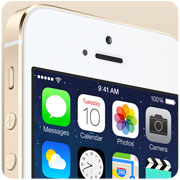 Apple's month-to-month smartphone sales appear healthy, according to data covering September to November 2013, released Tuesday by Kantar Worldpanel ComTech. However, the bigger picture is less encouraging. Year-over-year figures indicate Apple is at best treading water, with its share having declined in most major markets.
Apple now claims 69.1 percent of the market in Japan, 43.1 percent in the United States, 35 percent in Australia and 30.6 percent in Great Britain.
The release of the iPhone 5s and 5c models gave a nice boost to Apple's monthly sales, Kantar said. However, those gains were more than matched by fierce competition from LG, Sony and Nokia, according to Dominic Sunnebo, strategic insight director at Kantar Worldpanel ComTech.
Windows Phone, in particular, is making strong progress in Europe.
It "is now the third largest OS across Europe with 10 percent — more than double its share compared with last year," Sunnebo said.
Windows Phone is not duplicating that success elsewhere, however. Progress remains slow in the U.S. and China, where it has market shares of 4.7 percent and 2.7 percent, respectively.
Shine Isn't Gone
Apple still has the potential to turn this situation around, as the 5s and 5c models continue to gain traction.
The strong sales of both models were linked to high levels of customer satisfaction, Sunnebo said.
"Some people worried that Apple was risking its historically high consumer satisfaction levels by releasing a lower cost, plastic iPhone," he noted. However, the latest data for the U.S. shows that the iPhone 5c has an average owner recommendation score of 9.0/10, versus 9.1/10 for the iPhone 5s."
The devices attract different types of customers, but each group of owners are very happy with their choice and are recommending it to others, Sunnebo concluded.
Tablets and Topline Sales
Such information is no doubt good news for Apple, but the larger question looms: How significant is that year-over-year slippage in market share?
Not very, maintained Andy Abramson, CEO of Comunicano.
Apple is growing topline sales in a market that is growing as well, he told the E-Commerce Times.
"Apple is also increasing sales of tablets, and they make more money on those than they do on laptops," he pointed out. "You have to look at the sale of apps, music, content [and] books that Apple moves to customers."
Apple's cut from the sales of those items is one-third, said Abramson, which "is far more money than Apple makes on software for Macs."
Worrisome Trend
There is one group that should be watching the year-over-year decline with sharp eyes, said Adam Hartung, principal of Spark Partners Investors, who conducted research with The Conference Board on stall points in a company's growth.
"A stall point is when a company has year-over-year revenue or profits lower for two consecutive quarters," he explained.
Apple is flirting with a stall, Hartung told the E-Commerce Times.
Any company that hits a stall point will have a 50 percent probability of losing value in 12 months, and only a 7 percent probability of earning 2 percent gains consistently going forward, based on Hartung's research findings.
Apple will be able to ride its brand only so far, said Brian Finn, group chief strategy officer at Digicel.
"After a while, if Apple can't continue to out-innovate the likes of Samsung, it will pay the price in the mid-term," he told the E-Commerce Times. If that happens, it can expect its share of the smartphone market to continue to decline.