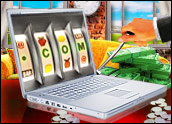 888 Holdings announced last week that it had become the first Internet gambling company to be awarded a license to operate in the U.S., possibly opening the door to further online betting opportunities in the States.
With its new license, granted by the Nevada Gaming Commission, 888 could launch an online gambling offering in the state.
It would be the first such offering since Congress passed the Unlawful Internet Gambling Enforcement Act (UIGEA) in 2006. The new law sent companies such as 888 fleeing elsewhere to conduct business.
888's new license is one of the signs of a shift in public opinion about online gambling in the U.S., however. Many cash-drained states are eager for the tax revenue that can come with Internet betting sites.
In addition to Nevada, Delaware and New Jersey — home to casino hub Atlantic City — recently passed legislation allowing online gambling.
Neither 888 nor the Nevada Gaming Commission responded to our request for further details.
Enforcement Efforts
With a subtle shift in public opinion toward online gambling and more states appreciative of the kind of tax revenue the business could bring, it's likely that Nevada, New Jersey and Delaware won't be the only states to pass laws that allow companies like 888 to operate in the U.S., said Rick Geiger, attorney at Geiger Gaming Law.
"The Department of Justice policy change from over a year ago just fell in line with the inevitable," he told the E-Commerce Times. "Gambling has mostly been a state-regulated issue."
That could change if Congress should decide to enact overarching legislation. For now, though, it looks like states will continue to be free to pass their own laws regarding the business, said Anthony Axisa, CEO of Cybergaming Consultants.
"The big question remains whether online gaming will be regulated nationally or if it will be state by state, with some potential of cooperation to a certain degree," he told the E-Commerce Times. "Currently, it looks like federal isn't happening."
That freedom will come with its own challenges, said Geiger. At this point, online gambling is allowed only within the confines of the licensing state — or within other states that may enter into an agreement with it.
It might be difficult from a technological standpoint to make sure gamblers in other states aren't finding ways to play, however.
"The tech challenges are interesting, and it will be a never-ending process of new technology for protection, and then breaking that protection or duping the protection," Geiger predicted.
Playing Nice
The challenges that come with allowing online gambling in the U.S. aren't just on the technological side, Geiger pointed out. The movement is also facing opposition from big gaming companies based in Las Vegas.
The rise of online gaming has spooked some of the traditional gambling institutions — much as big players in other industries have been rattled by transformative technologies.
Eventually casinos are going to have to figure out that online betting can help the gambling industry, not hurt it Geiger said, recalling that there was a great deal of angst in the film industry when home video players became available, but that revolution ultimately spawned a whole new prosperous segment.
In the long run, learning to play nice with the online newcomers can only help casinos and states that open themselves to the new revenue opportunities, he suggested.
"What Nevada needs is for the big gaming companies to put their egos in their pockets and start understanding what online gaming can do to be additive to their businesses and accretive to their earnings," Geiger advised.
"The bottom line is that if Nevada wants to really be a player, they need to start understanding the true technology," he said, and "change their gaming floors to get the younger demographic in social gaming into gambling by new means — and stop trying to kill the business they can't own."