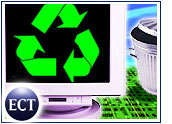 Electronics retail giant Best Buy has announced plans to try out a free electronics recycling program at 117 of its stores. The initiative will start in three cities and could spread to others if it succeeds.
Best Buy is launching its new program in Baltimore, San Francisco, and Minnesota, with up to two items a day accepted at no charge. The stores will take televisions and monitors up to 32 inches, computers, phones, and cameras. Monitors larger than 32 inches, console TVs, microwaves, air conditioners, and other appliances will not be accepted.
Right Time for Action
More than 2 million tons of electronics are tossed in the trash every year — about the same weight as 16 million American Gladiators piled in a heap — and the vast majority of that waste ends up in landfills.
The need for a nationwide plan has never been greater, from an environmental advocacy perspective — Americans throw out an estimated 100,000 PCs every day. Add to that the equally daunting number of cell phones, TVs and other outdated electronics being pushed aside, and the dimensions of the problem are truly monumental.
"Right now, less than 10 percent of people in the United States actually recycle cell phones," said Angela Beaubien, manager of marketing for ReCellular, the company that handles all cell phones from Best Buy's kiosk recycling program.
"Over 130 million cell phones are going to be retired this year, so if everyone can do their part to keep the phones out of landfills, it pushes the needle that much lower," she told the E-Commerce Times.
It's not just an issue of space. Trashing electronics is a waste of valuable metal, plastic and glass, notes the Environmental Protection Agency. Many of the items also contain toxic chemicals — everything from lead to mercury — that can seep into groundwater and pose a risk to communities.
The glass screens in computers monitors and TVs alone can contain upwards of 27 percent lead, the EPA warns, and when you toss that into the dump, it goes right into the environment.
Broader Concern
Recycling programs alone aren't enough to solve the problem. Many of them are not doing much good at all, Redemtech President Robert Houghton told the E-Commerce Times.
"What has to be asked," he said, "is what happens on the downstream side of the equation?"
Only 10 percent to 15 percent of electronics recyclers actually recycle what they take in, estimates Redemtech, which claims to be the largest provider of corporate computer recycling services in the world.
The rest just ship the stuff overseas to third-world countries, said Houghton. "[It's] exported to developing countries, where it is demanufactured by hand … in very unsafe conditions from a worker safety standpoint."
Many of the byproducts are dumped into the local environments, he said — and what's perhaps most worrisome of all: None of this is illegal.
"Most of the developed world has signed a United Nations convention that prohibits shipments of electronic hazardous waste across borders into developing countries. The United States is one of the very few countries that hasn't ratified that convention," he explained.
"If electronics are accepted for recycling in this country, they ought to be recycled," Houghton continued. "Steel should be turned into steel products, aluminum into aluminum — and toxic materials from circuit boards need to be properly managed so there's no human health impact."
Shared Sentiment
Best Buy's cell phone recycling partner, ReCellular, has a zero landfill policy and handles all materials itself. You might be surprised what they might do with your old phone.
"Everything is reused," Beaubien said. "If phones can't be resold, the parts get melted down and used to make things like carpet backing, car dashboards, and playground equipment."
Recycling companies e-Structors, Materials Processing Corporation and Electronic Recyclers, which are overseeing the new trial program, have also indicated they use only environmentally safe methods.