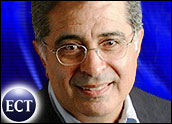 Internet portal Yahoo! (Nasdaq: YHOO) said Tuesday it has selected longtime Warner Brothers executive Terry Semel as its new chairman and chief executive officer.
The appointment of Semel ends a month-long search to replace Tim Koogle, who announced March 7th that he would step down. During the search, Yahoo was reportedly rebuffed by a number of technology and media executives being considered.
The choice of Semel positions Yahoo! as a media company rather than a pure play Internet site relying on online advertising and e-commerce activity for the bulk of its revenue.
Blurred Lines
Morningstar.com analyst George Nichols told the E-Commerce Times the appointment was a "mild positive" for the company. The analyst also said that the move to hire a media executive does not mean Yahoo is giving up on e-commerce.
"It's not so much a slap in the face of e-commerce as recognition that the lines between old media and new media have blurred," Nichols said. "They've traditionally lacked old media experience, and this latest announcement is a step in the right direction."
Hollywood Mogul
Semel had been with Warner Bros. for nearly 25 years, most recently serving as co-CEO and chairman. He had earlier been an executive in the theatrical units at both Walt Disney and CBS.
Semel's partner at Warner Bros., Bob Daly, became chairman of baseball's Los Angeles Dodgers in October 1999.
Semel "embodies all the characteristics that make him uniquely suited to be Yahoo's next chairman and CEO," said Yahoo! co-founder Jerry Yang. "He helped build one of the world's largest and most successful media enterprises and has established and operated diverse global businesses at large scale."
Citing Semel's expertise in marketing, brand building and creativity, Yang said that Semel "clearly understands the tremendous opportunity ahead for Yahoo!"
Taking Stock
Yahoo! said that Semel is credited with expanding Warner Bros. from a US$1 billion company to an $11 billion media empire with more than 50 operating units worldwide.
For his part, Semel, who bought 1 million shares of Yahoo! in conjunction with his hiring, said he sees "incredible potential" for the Santa Clara, California company.
"The opportunities for combining traditional marketing and media with the interactivity of the Internet are extraordinary," Semel said.
Uphill Battle
Semel inherits Yahoo! as it tries to come back to the heights it reached just over a year ago, when its stock was soaring and it was rumored to be interested in taking over a media company such as Walt Disney.
But the Nasdaq slide, combined with the online advertising market collapse, has left Yahoo! reeling. The company recently announced its first layoffs, saying that it would reduce its workforce by 420, or about 12 percent.
The giant portal has also begun to cast a wide net in search of ways to generate income from its vast user base.
Early this year, Yahoo! started charging listing fees at its auction site. The company also recently unveiled a plan to charge users for premium content on its finance pages.
Trading Places
However, Morningstar's Nichols said that while word of the hiring should put to rest the idea that no one wanted the Yahoo! job, the announcement itself probably won't be enough to break Yahoo! out of its stock slump.
"Unless the conference call details major strategic changes, I don't think the announcement in itself provides a major improvement in the company's murky outlook," Nichols said.
Early Tuesday, Yahoo! was trading at $17.23, down 39 cents from Monday's close of $17.62. In the last year, the stock has traded as low as $11.38 and as high as $150.