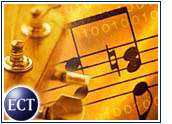 Amid a slew of new partnerships and product announcements in the digital music field, Yahoo! (Nasdaq: YHOO) said Thursday it has formed an alliance with Duet, a subscription-based music service being developed by two of the world's largest record labels.
Yahoo said it will initially market Duet as a streaming-music channel and later offer digital downloads to the millions of Web surfers who use the Internet portal.
"We are committed to providing our active and robust consumer base with fast, easy and legal access to the music of their choice," said Yahoo! president and chief operating officer Jeff Mallett. "This alliance represents a step forward in our ongoing efforts to make Yahoo! the Web's premier entertainment destination."
Duet, which will be based in New York City, is scheduled to launch this summer.
Legal Alternative
Powerhouse record labels Universal Music Group and Sony Music Entertainment announced last year they would develop Duet as a legal, paid alternative to the wildly popular but legally troubled Napster music file-swapping service.
In an interesting twist, the Duet deal links Yahoo! with Vivendi Universal (NYSE:V). Vivendi's name has come up most often in rumors that Yahoo! would be acquired by another media firm to create a second AOL/Time Warner.
Vivendi's chief executive officer Jean-Marie Messier said that the deal brings the music company "closer to achieving one of our fundamental goals — providing consumers with access to all music, all the time."
Messier added: "The number of consumers seeking music online is large and growing and we want consumers to have legitimate access to all their favorite artists and songs."
Go Yahoo!
Yahoo has been actively striking partnerships on several fronts recently as it attempts to reverse a trend of sliding profits. For instance, earlier this week, Yahoo! announced a deal with software giant SAP to create corporate portals.
As for the fledgling Duet, the deal means instant access to millions of potential customers. The two labels together say they can provide access to nearly half of all the world's music through the service.
"Yahoo's strong brand recognition and tremendous consumer reach will greatly enhance the success of Duet," said Howard Stringer, Sony Corp. of America chairman and chief executive officer.
Elbow Room
Yahoo! is entering an increasingly crowded digital music arena.
RealNetworks unveiled a partnership with three other record labels this week to create MusicNet. In a separate deal, MTV said Wednesday that its interactive unit's Web sites would have 10,000 songs available for download within weeks. And Microsoft's MSN launched a new version of its own streaming music product this week.
Once again the subject of congressional hearings, Napster itself is trying to settle lawsuits by restricting downloads of copyrighted music and eventually becoming a paid service. The company is seeking federal legislation that will make music licenses for online music from the record label copyright holders compulsory, as is the case with radio broadcasts.