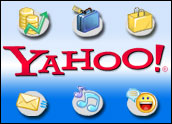 Yahoo shares moved higher by more than 3 percent Tuesday after an analyst upgraded the stock, suggesting that Microsoft was likely to sweeten its offer for the Web portal.
Citigroup analyst Mark Mahaney upgraded Yahoo shares to a buy on Monday, arguing that the strategic value of Yahoo made a more lucrative offer worth the software giant's money.
"Despite three to four years of making online advertising a key strategic priority, Microsoft has yet to demonstrate traction," Mahaney writes in a research note, adding that the company's share of the online ad market in the U.S. actually declined fractionally in 2007. "We believe the likelihood of Microsoft of walking away from the deal is small.
$34 Per Share Possible?
"No other step could potentially address the scale/liquidity challenge of Microsoft's ad platform," he adds.
A sweetened offer of US$34 per share, up from the original $31 that Microsoft offered and Yahoo has rejected as too low, is possible, given the strategic value of Yahoo in Microsoft's bid to battle Google for online ad dollars, Mahaney argues.
Yahoo shares responded to the report, rising 3 percent in midday trading. They remained well below either offer price, however, at $28.33, likely a sign of investor pessimism that the deal will be done quickly.
Blocking Action
While there has been speculation that Microsoft left room in its offer for a higher bid when it announced the unsolicited offer on Feb. 1, Yahoo's inability to lure a rival suitor into the bidding may have made that unnecessary. In fact, recent stock market turbulence has taken the value of the deal down as Microsoft's stock price has sagged.
Yahoo has talked with Rupert Murdoch's News Corp. only to have Murdoch himself say his company would not try to outbid Microsoft. Yahoo may also be talking with Time Warner about a deal that would combine that company's AOL with Yahoo.
A Microsoft-Yahoo hookup may face regulatory hurdles, Mahaney says, but he adds that the "limited combined market share" the two companies should help it win approvals.
The deal shouldn't be held up by any regulatory roadblocks, said Gartner analyst David Mitchell Smith.
"That's the one place where Google's large and growing market share helps the smaller companies," Smith told the E-Commerce Times. "Even though European regulators in particular have become aggressive at reviewing mergers in the Web space, the fact that this combination won't even create the largest player in the space should help it clear when and if it finally goes through."
How the deal gets done may matter, meanwhile. If Microsoft is force to resort to tactics such as a proxy fight to win seats on the board of directors or other long-term scenarios, it could turn off Yahoo employees and damage the value it is trying to capture in the Yahoo brand and culture, Smith added.
Independent or Together?
Last week, Yahoo tried to emphasize that it could restore growth and profitability even if it remained independent, saying it could double cash flow in three years through a series of internal initiatives already under way under CEO Jerry Yang. Those efforts are aimed at making Yahoo an essential part of Web users' daily lives and maximizing the amount of revenue each user generates for the portal.
Larger trends are at work, however, said JupiterResearch analyst Barry Parr, including the overall slowing of growth in the Web universe.
"Online audience growth in the U.S. has been flattening out for some time and it will continue to do so," Parr told the E-Commerce Times. "It's a different game entirely to find ways to make money in a slower-growth scenario than it is when the overall audience is expanding rapidly."
Google has done a better job than both Microsoft and Yahoo of driving revenue from their users, meanwhile. "There comes a point where in order to grow their audiences, Web companies will have to turn to the acquisition route," Parr added.