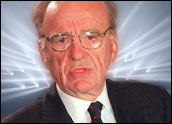 News Corp. Chairman Rupert Murdoch said his media company won't get into a bidding war with Microsoft for the right to take over Web portal Yahoo.
During a keynote speech at the Bear Stearns Media Conference, Murdoch suggested the US$44.6 billion offer Microsoft made for Yahoo was too rich for his company to match or exceed.
"We're not going to get into a fight with Microsoft," Murdoch said. "They've got a lot more money than us."
'Fun to Beat Microsoft'
Still, the media mogul, whose most recent acquisition involved taking over Wall Street Journal parent Dow Jones for around $5.2 billion, admitted "it would be fun to beat Microsoft."
Yahoo has been linked to News Corp. in talks several times in recent years, with Murdoch at one point offering to turn over to the portal the MySpace social network in exchange for an ownership stake in the overall company.
More recently, Yahoo reportedly spoke with News Corp. as part of its search for alternatives to Microsoft's unsolicited takeover bid, which was announced at the beginning of February.
Murdoch did not rule out a partnership, partial sale or other arrangement, but shareholders are unlikely to be mollified by anything that is seen as having less value than Microsoft's cash-and-stock offer.
Who's Left?
Taking News Corp. out of the mix may leave Yahoo with few legitimate strategic alternatives as it seeks ways to avoid being gobbled up by Microsoft.
In addition to News Corp., Yahoo has talked with Time Warner about a partnership with AOL and reportedly talked with Google about an advertising deal. A private equity buyout may also have been discussed by Yahoo's board.
Yahoo last week tried to buy time to explore its options, extending the deadline for nominating candidates to its board. Though it has not said it would do so, Microsoft is expected to put up a slate of nominees for the board as a strategic move to help build support for its offer.
Other companies named as potential suitors, such as Comcast and AT&T, have also steered clear of being drawn into the discussions.
The lack of viable alternatives appears to support Microsoft's decision not to raise its bid for Yahoo so far, said Gartner analyst Allen Weiner.
"It looks more and inevitable that this will happen," Weiner told the E-Commerce Times. "Yahoo has fewer alternate routes to pursue."
Having a Social
News Corp.'s big chip is its MySpace property. All three of the major Web players have made moves to beef up their exposure to social networking.
Microsoft took a 5 percent stake in Facebook last year, Google has launched its own social network — though it has not found much traction in the U.S. — and Yahoo has attempted to add a social computing flair to some of its services, such as photo-sharing.
"Microsoft's offer is based on value that it thinks it can unlock well beyond advertising," JupiterResearch Analyst Barry Parr told the E-Commerce Times. "Yahoo's properties and technology and users are valuable to Microsoft for a number of reasons."
By contrast, the MySpace partnership would be far more narrowly focused and comes with the complication of having Google already in place as the provider of search ads to the network. "It's going to be hard for Yahoo to find another deal that offers the value of Microsoft's offer," Parr added.
Yahoo's best alternative option now may be Time Warner's AOL, though it's not clear how far talks between those two companies have progressed.
During his address to the Bear Stearns conference, Murdoch also said his company is "very happy" to be partnering with Google, which won a long-term deal to provide search ads on MySpace. "Microsoft feels they have to pay attention to Google," he added. "They're quite paranoid about it."
He also said he believes the Web represents a "huge opportunity" for The Wall Street Journal, including not only online advertising but also paid access to its content. The Journal's Web version may have social networking components added to it over time, Murdoch added.