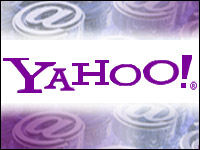 Shares of Yahoo took a hit Wednesday, a day after the portal and search company reported earnings that, while up sharply from a year ago, fell short of expectations.
Some analysts wondered whether the overall strength of the Internet sector in the fourth quarter had been overstated in forecasts, while others suggested that Google — which reports earnings on Jan. 31 — may have gained more ground on its rival. Still others said the results weren't bad enough to warrant the sharp stock sell-off.
Yahoo shares were down more than 11 percent in midday trading Wednesday.
Ripple Effect?
For the fourth quarter, Yahoo's profit was US$83.2 million, an 83 percent jump over the same period in 2004, with revenue up 39 percent to $1.5 billion. The results included gains from Yahoo's mid-2005 investment in China's Alibaba.
The quarter was "far from perfect," said RBC Capital Markets analyst Jordan Rohan, noting that growth in the international search arena did not materialize as expected. Still, the company "remains very well-positioned, and expectations are now reasonable, if not conservative," he maintained. Rohan upgraded the stock, despite what he described as a likely "mild loss of market share" to Google.
Several analysts suggested that Yahoo simply fell victim to its own upbeat forecasts, which it wasn't able to surpass.
Harder to judge is whether Yahoo's results will spill over to other Internet companies. In addition to fellow search and portal firms, the next few weeks will bring results from the likes of eBay and Amazon, whose long-term fortunes often rise and fall based on their ability to produce blockbuster fourth-quarter numbers.
"I don't think this is the sound of a bubble deflating," said search-marketing expert John Battelle. "I don't think we're in a bubble. But maybe this is a reminder that outsized expectations are, well, outsized."
Bigger Picture Fuzzy
Yahoo CEO Terry Semel did his best to put a positive spin on the quarter. "Everything is going extremely well," he said in a conference call. Yahoo issued guidance that calls for robust growth but falls below what analysts had been expecting.
Semel outlined several initiatives slated for 2006 that are meant to help capture long-term growth in online advertising.
For instance, Yahoo expects more growth in self-published, or user-generated, content and will offer more tools to enable Web publishing and marketing. "We anticipate the overall Internet advertising market has the potential to double in size in the next five years," Semel said.
Yahoo saw growth in many areas of its business, according to Nielsen//NetRatings, including a 62 percent year-over year expansion in advertising revenue from image-based advertising on its network, as well as an overall traffic increase of 9 percent from a year ago, with its portal now reaching more than 103 million users. Sponsored search links, meanwhile, grew 4 percent between September and December of 2005.
Some analysts regard Yahoo's results as a red flag suggesting that the Internet's economic landscape is changing.
Charging hard are newer social-networking sites, such as Myspace.com, which was purchased by News Corp. in 2005. News Corp. CEO Rupert Murdoch has made it clear he plans to rattle the existing portal business by investing heavily in the site.
Meanwhile, Microsoft has targeted a June launch for its MSN adCenter, which stands to make it a more formidable force in the space.
There is little agreement among analysts on the impact of Yahoo's results on Google. Some raised their ratings on Google, assuming that it stole market share and revenue from Yahoo and stands to gain even more now that its partnership with America Online is in place.Investors were skittish on the news, though, sending Google shares down by about 2 percent in a market that was hit hard by weak earnings from Yahoo and another tech bellwether — top chipmaker Intel.
The Search for Meaning
The search market is unlikely to change dramatically in the near future. In fact, data from Nielsen//NetRatings suggest little movement among the top search engines, with Google accounting for 46 percent of searches, Yahoo for 23 percent, MSN for 11 percent and AOL for about 7 percent.
"The top players have held their respective positions for the past six months, demonstrating the benefits of incumbency in the search arena," said Nielsen//NetRatings chief analyst Ken Cassar.
Yahoo's long effort under Semel to diversify its revenue base with job listings, dating sites and other fee-based services will help it sustain some market-share losses to Google, at least in the short term, Forrester Research analyst Charlene Li told the E-Commerce Times.
"Yahoo can tap into multiple revenue streams — especially emerging branding dollars that come with video and rich-media ads," she said.