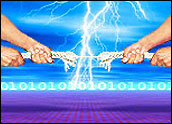 Making big moves to extend the portal wars to the wireless Web, Yahoo and Google are launching major pushes to have their extensive menu of Web services available on users' mobile phones.
The Wall Street Journal reported that Yahoo is poised to announce a partnership with SBC Communications in which the two companies will co-market a Yahoo-branded cell phone that offers fast access to the types of services — e-mail, music, photos, etc. — that are available on the sprawling Yahoo Web portal.
Meanwhile, Google formally launched a mobile-friendly version of its Local search tool, one that will try to push popular search and mapping functions for finding local businesses from the Web to the mobile phone.
Google Local for Mobile, which Google says is still in beta form, will be immediately available on most Java-enabled phones and will offer some of the same features — such as the ability to zoom in on satellite and traditional maps — as are available online.
Both Yahoo and Google have made previous efforts to push their services — particularly search — to mobile phones. But reactions have been mixed, with the limited functionality of many existing mobile phones one likely culprit. Google attempted to work around that problem by creating a text-based search service.
The Next Battleground
Yahoo declined to comment on any plans it may have in the works with SBC. But reports say the phones will offer one-click access to certain Yahoo tools and services and enable users to synchronize their online and mobile address books.
Telecom analyst Jeff Kagan told the E-Commerce Times that both companies' new mobile efforts are examples of "how the cell phone is changing and expanding from a phone to a wireless computing device.
"It is becoming the third screen," he said. "The television, the computer and the cell phone are the three screens that we use in our lives."
Kagan added that the Web companies know where the future lies and are making aggressive pushes to be there ahead of the crowds.
"Companies like Google and Yahoo are entering the wireless space because they know the future of wireless is more than phone calls, but information services as well, and they want to be a powerhouse in that emerging area," he said. "The wireless industry is getting fast enough and robust enough to make it a great place for companies like Google and Yahoo, who have been most at home on the computer screen."
Wide Open Field
One reason the companies are eager to push forward on wireless ventures is that the marketplace is seemingly wide open, with few clear early winners in the race to provide enhanced services to mobile phone users.
As a result, mobile carriers have been eager to strike non-exclusive relationships with a host of service providers and content owners. For instance, RealNetworks and Cingular linked up for a streaming music service.
Many analysts believe it is a matter of when, not if, high-end mobile services will catch on in the U.S. and some are watching overseas markets for indications on where users will want their phones to take them.
Places such as Japan and Korea, with a high density of high-speed mobile networks and a high degree of comfort with hand-held devices among users are seeing the emergence of mobile gaming, mobile banking and other forms of e-commerce and even limited uptake of mobile television.
Portals will be eager to supply any of those services for the mobile audience, especially if they can expand their own reach and the opportunities for boosting subscription and advertising revenue in the process, Kagan noted.