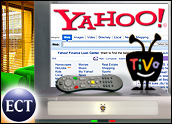 Further blurring the increasingly hard-to-find line between television and the Web, Yahoo and digital video recorder (DVR) maker TiVo said they would team up to offer TiVo's online scheduling features on Yahoo TV.
The hookup will enable users of Yahoo TV to use TiVo's scheduling technology to set their DVRs to record a show, using any Web connection to access the Yahoo TV service.
Holding Off the Competition
Analysts said the deal was a win for both parties and likely could lead to more robust partnerships in the future. For now, Yahoo gains a model it can hold up as it works to extend the Web's relevance to devices other than the personal computer and a service that rival portals do not have.
Meanwhile, TiVo lands an important differentiating service in a market that it invented and long dominated but which has more recently seen heavy competitive pressure as satellite TV providers and cable TV companies have begun to offer alternative DVR services.
"Working with Yahoo is another way for us to deliver the best way to watch television and give viewers control of the television experience" said TiVo CEO Tom Rogers. "Beginning today, we're giving Yahoo users — whether they're at the office or away from home — the ability to easily schedule recordings for later viewing."
David Katz, director of sports and entertainment for the Web portal, said millions already turn to Yahoo for specific TV listings, making the ability to schedule digital recordings of their shows when they are away from their TVs — at work or on the road, for instance — a natural extension of existing services.
Yahoo TV also offers a growing library of downloadable and viewable content, including re-broadcasts of some popular TV shows. Analysts said the TiVo connection might help drive additional downloads as users who are seeking certain programming may find what they're looking for on the portal instead of on television.
Medium Blend
TiVo has made the Internet a focus of its efforts to thrive in that newly competitive environment.
Over the summer, TiVo said it would begin offering Web downloads of original content on the Independent Film Channel. That trial is aimed at users with high-speed connections and at prompting more TiVo users to link their recorders into their home networks.
That connection could open up a host of more interactive services for TiVo users, analysts note, which could provide the important advantage of helping the company find new ways to monetize its audience of existing users.
The deal was one of two major new initiatives for Yahoo. Separately, published reports said Yahoo would join with SBC Communications to produce and market a Yahoo co-branded cell phone meant to take advantage of Web services such as music, photos and e-mail by linking users with their Web accounts.
Many analysts say Yahoo's main advantage in portal wars with AOL, MSN and, increasingly, Google, is its strong connection to the entertainment world. That foundation has been laid by years under the guidance of CEO Terry Semel, a former Hollywood executive.
While the major portals offer nearly identical menus of practical and communications tools — e-mail, instant messaging, photo storage, etc. — the growth of broadband will make access to content a key factor as well. Yahoo may also see a future in which the Web is a key tool for managing home entertainment networks, a slight twist on the notion promoted by Microsoft and others of the PC-driven home entertainment world.
"Yahoo has a strong foothold in that entertainment space," said Forrester analyst Charlene Li. "They've made strong partnerships that will provide them an advantage that they'll need to battle the likes of AOL."
Internet Time
Because the TiVo will work only for registered Yahoo users, the partnership may drive some additional membership for Yahoo. Yahoo has also been one of the strongest portals at monetizing its user base, meaning that more members could eventually spell more revenue, Li noted.
Meanwhile, the lines between traditional television outlets and the Internet are blurring at breakneck speed. In recent days, NBC became the first network to say it would make available online the full broadcasts of its evening news program.
The show will be available just hours after it originally airs, joining a growing pool of first-run TV content being pushed onto the Web as content owners seek to get ahead of the Web-TV trend and jump on emerging advertising and marketing opportunities.