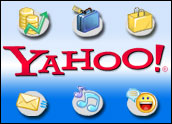 In what could be a major shift in the social networking landscape, Yahoo reportedly has held talks to purchase Facebook, which trails rival MySpace.com in terms of total users, but has found traction among the college-age demographic with a more restrictive membership approach.
Yahoo could pay as much as US$1 billion for Facebook, according to a Wall Street Journal report Thursday. The social networking site has also discussed a sale with both Microsoft and Viacom, the parent of MTV Networks and other media properties, the report said.
Facebook limits membership, requiring that its members belong to existing networks such as a high school, college or a hand-picked group of companies. That requirement has kept it relatively small, with around 10 million registered users compared to 100 million for MySpace, which has no such restriction.
Even with limited membership, Facebook is one of the most heavily trafficked sites on the Internet, with users displaying a high degree of loyalty, using the site heavily to check up on friends, find new friends or connections and maintain their own pages of photos, Web logs and other information.
Rival MySpace was sold last year to Rupert Murdoch's News Corp. for around $600 million.
Strange Bedfellows
If the deal does go through, one of the first orders of business for Yahoo would likely be to undo the recent agreement that made Microsoft the search provider for the site. Neither Yahoo nor Facebook would comment on the reports Thursday.
That $150 million agreement was a major win for Microsoft, especially since it came after Google outbid it for the right to serve up ads for MySpace.