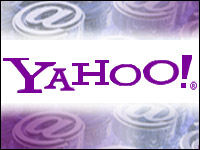 Internet stocks dropped Tuesday afterYahoo said its third-quarter financial results would lean toward the low end of its earlier guidance, sparking concerns that the Web advertising boom may be cooling and that theportal is seeing the first signs of an economic slowdown.
Relatively slow ad sales in certain sectors will cause Yahoo to fall short of the most optimistic take on its forecast, said Yahoo Chief Financial Officer Susan Decker at a financial analyst conference. That forecast itself was regarded as a disappointment when it was issued in July.
Signs of Weakness
"We have seen a little bit of weakness in the last three or four weeks," Decker said during the Goldman, Sachs & Co. conference in New York City. "It is having an impact on our quarter."
Ad sales had cooled in two sectors in particular: automotive and financial services, she noted. That is likely enough to keep Yahoo closer to the low end of its forecast range provided in July, which called for revenue of US$1.12 billion to $1.23 billion.
"We're seeing slower growth, not anything more material than that," Decker said. "We think it's kind of early to tell whether this is a sign of anything broader."
Yahoo shares were off as much as 12 percent as news of the comments surfaced, and the malaise quickly spread to other Internet stocks, with eBay, Amazon.com and Google also trading lower during midday action Tuesday.
IAC/Interactive Chairman Barry Diller told the audience at the same conference that his company's Web media properties had also recently seen a drop-off in advertising from financial services companies.
Aberration or Troubling Trend?
Analysts will likely watch other media companies to see if the weakness in ad sales — often an early indicator of a pullback by businesses ahead of a period of slower growth or even recession — is being felt outside the Internet.
For Yahoo, however, a disappointing quarter could be costly. In July, the day after its second-quarter results fell short of expectations, Yahoo's stock fell 22 percent, shaving tens of millions of dollars off its market valuation.
The sell-off was tied to Yahoo's announcement that it would delay launch of its next-generation Internet ad platform. Word of additional weakness may contribute to a sense that it continues to lose ground to search and advertising market leader Google at a critical time.
In a filing with the Securities and Exchange Commission (SEC) that followed Decker's comments, Yahoo said it was "starting to see some advertising weakness in some of the most economically sensitive categories.
"Growth is still positive, but it is slower in Q3 than it was in the first half of the year," the portal added.
The snapshot given by Yahoo was not enough to extrapolate into a larger picture of a slowdown in the economy or even in the online advertising space, which has been clocking double-digit growth rates. It is expected to continue to expand significantly for the foreseeable future.
The fact that automakers were among the sectors called out by Decker is not surprising, given the recent woes of Ford and General Motors.
What About Google?
It may be inevitable that search providers such as Yahoo and Google will more closely reflect the cyclical nature of the economy as a whole, now that their advertising bases include a representative cross-section of companies that also advertise in print and traditional electronic media outlets.
Because it has stuck to its guns on not providing quarterly forecasts or mid-quarter updates, a similar report from Google is not likely to be forthcoming. Any indication that Google is feeling the same pressure would clarify the picture, since it owns the lion's share of the search advertising market.
Google had a 50.2 percent share of all searches conducted in July, compared to 24 percent for Yahoo, according to Nielsen//NetRatings. Google also outgrew Yahoo by a considerable margin, clocking 30 percent year-over-year growth in searches compared to 23 percent for Yahoo.
Slowdowns, or even slower growth, in the Web ad sector would be a surprise given the overall direction of long-term trends. The Interactive Advertising Bureau (IAB) said online ad sales generated a record $12.5 billion in revenue last year, a 30 percent increase over 2004 levels.
Research firm eMarketer predicts that number will grow to $16.7 billion this year, with more than 40 percent of that being accounted for by Google and Yahoo combined.
Slower growth is an inevitability, however, said eMarketer analyst David Hallerman. The firm predicts the market will reach $29.4 billion by 2010 — but by then growth rates will have slowed to the low double digits or high single digits.
Still, Yahoo remains well positioned to capture a big chunk of the growth that will occur between now and then. "Yahoo and Google have a dominant place in the Internet ad game [that] is not going to go away," he said.