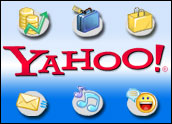 Ratcheting up the Web e-mail wars once again, Yahoo is about to launch an extensive makeover of its service, saying the new iteration will offer faster message loading, search functions and an easier-to-use interface that mimics traditional desktop e-mail programs.
The new version is expected to be released to some current users in beta form in the next couple of weeks, with wider availability within months, and is being billed as giving the Web-based e-mail a desktop feel, much like that of Microsoft Outlook, Eudora and other popular programs.
E-mail users will be able to choose to stick with the current form of Yahoo mail if they prefer. The upgrade leverages technology acquired by Yahoo through the purchase of Oddpost in 2004, and the company is billing the new makeover as the most significant change to the service since it went live in 1997.
More Like Desktop E-Mail
With the new interface, users will be able to drag and drop messages into various folders, open multiple e-mail messages at the same time in separate windows and view or scroll through all messages in any given folder at once, rather than the current one-page-at-a-time approach. Keyboard shortcuts are also included.
The new interface will also include a preview pane, where users can see the headers and the top of e-mail messages, which is how most desktop programs display e-mails. The new service will work only with Internet Explorer and Firefox at first, Yahoo indicated.
Others have recognized the advantages of more closely blending Web-based and desktop e-mail programs. For instance, MSN offers users of its Hotmail service the option of paying a monthly fee to link their Hotmail accounts with Outlook.
Yahoo said another major advance is the use of dynamic HTML to load and display e-mails faster, with the first batch of information being loaded and displayed before all the information is loaded from the Yahoo servers.
Speed Matters
That feature is designed to overcome a common complaint among Web mail users about slow loading times and the time it can take to perform even basic functions such as opening a message or sending a reply. Those wait times can be especially long for users of dial-up Internet connections.
Yahoo's new service will maintain the current 1 GB of free storage space.
The Web e-mail wars have now been raging for over a year, since Google launched Gmail in beta form last April. Since then, Hotmail, Yahoo and AOL's AIM Mail have all vastly increased their free storage space and have begun to offer other features.
For instance, AIM Mail offers integration with AOL Instant Messenger, and just last week, MSN implemented the Sender ID protocol, a move that it said could cut down dramatically on the amount of spam making it into users' inboxes, and Yahoo debuted PhotoMail, a service meant to make it easier to e-mail even large photos.
All of the major players are also eying extending e-mail to the mobile world, with Yahoo recently announcing a partnership with Sprint for low-cost push e-mail aimed at helping cell phones rival the popularity among business users of the BlackBerry device.
At stake are the eyeballs and, more important, the loyalty of millions of Web users, analysts say.
Back on Top?
"E-mail is a key loyalty hook for the portals," Forrester Research analyst Charlene Li told the E-Commerce Times. "The more intuitive and natural and faster to use they can make it, the more users will respond."
The Yahoo upgrade, she added, could be seen as a reaction to AIM Mail, which has the potential to steal users from Yahoo and MSN with its feature-laden offering that combines messaging contacts with e-mail.
Web mail has long been seen as an important utility by many users, who often adopt it as a backup to their main e-mail accounts. However, new innovations could help make it become a central part of a user's communications habits and that, in turn, would help lock in users and prevent them from straying to rival portals, an important consideration since a portal's users and visits are what drives its desirability to advertisers.