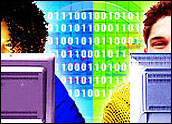 Yahoo has shut down dozens of Internet chat rooms after questions were raised about whether the sites were being used by adults to lure minors into sexual encounters.
The portal also removed a feature that lets users create their own chat rooms in Yahoo's popular chat community area, but Yahoo-sponsored and monitored sites remain up and running.
The case highlights how Yahoo and others find themselves wrestling with the balance of freedom of speech and its responsibility to ensure the safety of it Web community.
How Much Responsibility?
While legal precedent generally protects Web entities from illegal activities of their users, recent lawsuits have raised new questions about the level of responsibility that a portal like Yahoo can and should exert over how members use its networks.
Yahoo said it was unable to give an exact number of how many chat rooms would be impacted, since the number that are operating varies from day to day. A note on the Yahoo Chat page about the sites said that they are "currently unavailable. We are working on improvements to these sites to enhance the user experience and compliance with our terms of service."
The terms of use for Yahoo Chat include agreement among users to not "harm minors in any way" or to use the forums to propagate content that is "unlawful, harmful, threatening, abusive, harassing, tortious, defamatory, vulgar, obscene, libelous, … or otherwise objectionable."
The move comes after a Houston television station aired a report showing that chat rooms with names such as "Girls 13 And Under For Older Guys" were being created in areas that were designated for school-related chat.
The same TV station, KPRC, said several major advertisers — including State Farm insurance, Georgia-Pacific and Pepsi — pulled ads from the chat area of the Yahoo networks after they were contacted as part of the story and told their display ads were found alongside those questionable chat rooms.
Taking Action
Whether or not the move harkens a shift in the online world toward more intervention by those who manage chat networks and other sites where people are encouraged to freely express themselves is open for debate.
For one thing, Yahoo might be especially edgy about the issue of children's safety online after being named in May as a co-defendant in a US$10 million lawsuit filed by a parent against the portal and a man who allegedly used a site on Yahoo Groups to swap child pornography.
Around the same time, it was hit with a lawsuit from a woman who said the portal failed to follow through on a promise to remove nude photos of her posted by her husband in a chat room user profile.
The decision to end user-created chat has irked many of the users of Yahoo Chat, some of whom say millions of legitimate chat users are being punished for the actions of a few who used the site for illicit purposes.
Peter J. Carr, publisher of the Chatmag.com Webzine said Yahoo could address the problems in other ways. Carr said many Yahoo-created chat rooms are now considered unusable by some longtime chatters because they are dominated by "adbots" that generate messages with links to commercial sites, some of them pornographic in nature.
"Yahoo can still be a good chat environment, if Yahoo implements chat moderators, and proactively deletes chat rooms of a questionable nature, most specifically, any pedophile related or hate group chat rooms," Carr said.
Familiar Territory
The debate over the Yahoo case hints at a larger question of how much responsibility Web companies have to ensure their properties are not being used for illicit activity. In the past, asking users to agree to a strict terms of service has been seen as protection for Web sites, which have maintained that they are unable to monitor everything that occurs on their networks due to the sheer volume of information being swapped every minute.
Yahoo has found itself in the crosshairs of that debate for years. The most high-profile example came in Europe, where the portal fought a years-long legal battle over whether it should be held liable for a user's decision to post Nazi memorabilia for sale on its auction site. The selling of Nazi paraphernalia is banned in France.
EBay has likewise been called on the carpet for what its members do and often moves to take action, for instance banning the sale of 9-11-related items in the wake of the terrorist attacks on the U.S. on Sept. 11, 2001.
Enabling the formation of informal networks of like-minded users was one of the first uses of the Internet in its earliest days, even before the creation of the World Wide Web. Dozens of law enforcement sting operations have focused on user groups and message boards in the past.
However, Carr doesn't believe that even a stringent crack down on content or strict monitoring will curtail the use of online chat rooms. He said many people can point to friendships and other relationships formed in such places and that have lasted for years.
"Internet chat will suffer little due to the current problems at Yahoo," he added. "There are numerous chat sites, and as long as people want to communicate, chat will be an active part of the Internet experience."