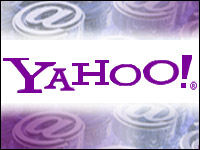 Bringing its massive reach and brand power to a rapidly emerging niche, Yahoo said today it had launched a studio that would focus on developing video games for smartphones and other mobile devices.
The Web portal said the studio is already at work producing its first games for Verizon Wireless and that more are in the works.
Yahoo also announced it had bought technology from an existing game-development firm, New Jersey-based Stadeon, which focused on enabling players using mobile devices to compete with players using PCs to access the Web.
Strong Mobile Player
Currently the technology works with Yahoo game titles such as chess and poker.
The gaming initiative is just one part of a larger thrust into the mobile arena, where Yahoo believes its deep well of Web portal content — such as news, maps, weather and local listings, not to mention online retail — can help it become a strong player.
Yahoo said its game-development studio will be based in Los Angeles, where the company has set up other entertainment-related businesses.
Analysts said the move likely reflects a long-term view of the changing mobile landscape for Yahoo, rather than anything that will immediately provide a boost to the company's bottom line.
That's because while content development is a key part of the mobile gaming and mobile commerce movement, it's only a single part of a bigger puzzle.
Additional advancements are needed in handset development, for instance, to make it much easier to access the Web and manipulate content. Some phone makers are already trying to overcome the limitations of small keyboards and screens with motion-sensitive and voice-detection devices, but most of those are far from ready for mainstream adoption.
Addictive Games
Also, networks need to be built out that can handle massive amounts of mobile data traffic. Because of the investment involved, those networks are likely to be ready for prime time first in Asian countries, then Europe, and not widely available in the U.S. for some time, analysts believe.
Still, Yahoo could become a huge friend of the wireless industry if it can develop addictive games, according to Rob Enderle, chief analyst at the Enderle Group.
Mobile carriers love such games because users can become hooked and use up potentially lucrative calling time, Enderle told the E-Commerce Times.
However, most mobile online games are fairly pedestrian compared to the current crop of video games, Enderle noted. "Online gaming doesn't offer the realistic, fast paced interaction found with today's gaming consoles," he said.
Merging those two worlds effectively could result in locating a pot of gold at the end of the mobile rainbow.
Playing Leap Frog
Industry groups say mobile gaming is a US$2 billion a year market, but one poised to grow rapidly in the next two to three years. The U.S. makes up a relatively small portion of that, with around $200 million in revenues last year, according to data from InStat/MDR.
That makes the play an international one and one that is most likely to pay off first in Asian countries.
Meanwhile, Yahoo joins scores of firms that are at work on the specific technology that will be needed to make widespread mobile gaming possible.
Many of the companies in the field are small privately held concerns.
Yahoo now instantly becomes a major force in the sector, one that could help advance overall development over time, analysts say.
Other big-time companies are eying a way into the niche as well. Sony, for instance, has made it clear it intends to use the popularity of its Play Station Portable to develop hybrid gaming devices that are Web-enabled.