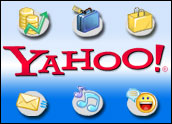 In a possible prelude to widespread Internet video offerings, Yahoo has revamped its online video site, creating television-like channels and offering users the chance to publish their own video where it can potentially be seen by millions.
Focused for now on enabling viral video to be widely seen, the new Yahoo Video combines uploading, browsing, community and search features and positions the portal to become a top choice for video publishers, Yahoo said.
More Availability
Previously, Yahoo's video offering gave users access to video found by crawling the Web, but now it will also include video directly uploaded to the site as well as feeds from partners and syndicators.
"As the video space continues to emerge, our strengths in search, content, personalization and community make it possible for Yahoo to offer a highly engaging video experience for both users and publishers," said Jason Zajac, general manager of social media at the portal.
Creators of video — from animation to live-action shorts and full-length films — can gain access to "the Web's largest global audience" by publishing on Yahoo, Zajac added.
Yahoo noted that its portal already serves as a conduit for millions of video feeds monthly — from sports clips to movie trailers and TV spots — and said having a single video channel will enable them to be more easily found by users and increase visibility for publishers.
Paving the Way
The upload feature is similar to programs that others, including Google and YouTube, already have in place and is seen as a testing ground for a broader video publishing platform that will eventually be opened up to content owners such as TV and movie studios.
For now, even amateur publishers can get additional features from the Yahoo site, such as the ability to track how many times a clip is viewed and to collect view ratings. Publishers can also create profiles and their own video channels.
A major draw will likely be the ability to be captured in Yahoo's search results or to be featured in one of Yahoo's many Web properties or home pages.
Some Yahoo users are clamoring for video publishing capabilities to be added to Flickr — the hugely popular digital photo-sharing site that it owns, Search Engine Watch Editor Danny Sullivan said. Yahoo may be concerned about messing with the success of Flickr or changing the way that site is used, he added.
Natural Fit?
With former Hollywood executive Terry Semel as its CEO, Yahoo has long been seen as well-positioned to become a player in the Web video niche, with Semel laying the groundwork in recent years with content-based partnerships.
Still, every major Web company is now vying for the same market and all are taking similar approaches — utilizing user-produced video to create viewer loyalty and demonstrate the value of their online platforms to content owners.
Google has invested heavily in its Video Search tool and AOL has bought video search firms to enable it to direct users to the video they want. AOL is also seen as having an advantage thanks to partner company Time Warner's deep well of video content.
The moves being made today may well determine who controls the majority of the online video market, with more and more networks and other content owners now willing to put content online, with everything from evening newscasts to first-run comedies and dramas now available for download via the Web, often just hours after appearing on traditional television.
All of the portals will offer publishers an outlet for their video content, but will compete with myriad others as well, including cable and phone companies developing their own IPTV technologies, Forrester Research analyst Charlene Li told the E-Commerce Times.
"The ones that will win will be the ones that convince content owners they can put their material online without losing their shirts," she said.
The real value Yahoo and others offer is in the ability to organize and help users locate video, serving the same function they do for other forms of Web content today. "The amount of video that will be available will be staggering," she said. "Whoever organizes it the best will become the preferred gateway."