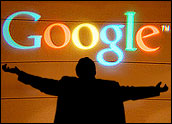 Google has taken the wraps off plans to sell video advertising online, an ambitious move that could unlock significant additional growth potential for the search giant.
The company said it will use a placement system that is similar to the AdWords platform in place for text and graphics ads, but will not place video advertising alongside search results — at least not yet.
Delivering the Message
Instead, video ads will be distributed on content sites that partner with Google. Google said it was adding video ads to meet the needs of its advertisers, some of whom, such as movie studios, need a fully interactive experience to deliver their messages.
Video ad space will be sold using the same auction system that powers AdWords, with advertisers able to bid for placement on the sites of their choice. The ads will appear within text pages for now, rather than as interstitial ads in downloadable video, Google said, and users will have to click on the ads to play them.
"This is the start of something important," search expert John Battelle said. "It's not on Google.com, yet, but it's going to be all over AdSense, and I bet in Google image search and other content sites, such as Finance, quite soon."
Though Google has been known to be working on the system for some time, with some ads showing up through a beta version in certain markets, the move is seen as a precursor to a more aggressive move into full TV-like video commercials, which Google could distribute alongside downloadable TV programs and other video.
Users in Control
Google said the click-to-play ads would launch in the U.S., Canada and Japan this week with more markets added in coming months.
The pricing of the ads will be determined by the auction system, but analysts said video ads typically sell for at least two to three times the cost-per-click or cost-per-thousand views rate of text ads.
Advertisers will be able to select whether to place the ads on certain sites in the content network or to use keywords to place them based on relevance, and they will be able to target ads in certain countries or regions, Google said in a blog post announcing the rollout.
Google said its ads will gives users "complete control," unlike "some intrusive advertising. When a page loads, only a static image will be visible; the video will not start playing until the user initiates it. He or she will be able to advance the video, pause it, adjust the volume or click through to the advertiser's site."
The search company said the ability to target the placement of video would make video advertising accessible to even small advertisers, citing as an example a small mountainside bed and breakfast that could place its ad alongside an article about skiing.
Welcome Boost
Google's contextual network is generally seen lagging its search ad network and will get a welcome boost from the video ads, Sterling Market Intelligence analyst Greg Sterling said.
"This suddenly gives Google a real product for brand marketers, something the company has wanted but hasn't really had until now," Sterling told the E-Commerce Times. "Yahoo has had much more to offer brands. It will be interesting to see how many of them will try this out. Google indicated there are a number of advertisers already signed up."
One thing to keep an eye on, according to Sterling, will be how many users will voluntarily watch longer-form video commercials, with Google accepting ads of up to two minutes in length.
Jupiter analyst David Card said the service still lacks what advertisers want most: Video ads placed within streaming video feeds. Card noted that to date, there's little connection between the video ads and Google's recently upgraded video service.
"Most advertisers and agencies I talk to are excited about trying to recreate the linear TV experience online — inserting ads before, during and after the show," he said. "This may be fundamentally wrong-headed, but that's what they're trying to do. And there hasn't been a whole lot of consumer resistance to in-stream ads yet."