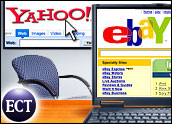 eBay and Yahoo announced Thursday they will work together on a range of fronts, including search and paid advertising, striking a deal that leverages each company's strengths and one that will undoubtedly send shockwaves across the Internet industry.
After several days of swirling rumors that the two Web giants were considering everything from partnerships to a full-out merger, the companies said they had reached a multi-year deal with four main components covering search and graphical advertising, online payments, a co-branded toolbar and possible future products in the "click-to-call" advertising arena.
More Ammunition
The deal is a boost for Yahoo, which continues to chase Google for search market share and according to some recent data has been losing ground in that battle. It also gives eBay greater reach for its strong community of buyers and sellers, an asset many believe can be leveraged to a much greater degree, and for some of its key technologies, including its Skype VoIP calling business and its PayPal online payment system.
Under the deal, Yahoo will become the default provider of graphical ads across the eBay platform and provide search and related advertising in key areas. eBay listings will also be integrated more tightly into Yahoo's search results.
The results of the partnership will start to appear in testing phase over the next several months and be fully implemented in 2007, the companies said. As a result, neither company expects any financial impact for the rest of 2006.
"This partnership with eBay provides us with a great opportunity to further extend our sponsored search and graphical advertising reach to one of the largest and most active communities on the Web," said Yahoo CEO Terry Semel.
eBay CEO Meg Whitman said both companies would be able to grow their core businesses through the link-up. "Working together, we can create more exposure for our properties, which in turn makes them more valuable to our users," she said.
Investors rushed to buy up the stock of both companies on the news, with eBay shares rising more than 7 percent in morning trading Thursday to US$32.39 and Yahoo stock rising more than 3 percent to $32.82.
Sweeping Agreement
In addition to the search elements, which are seen as key to providing Yahoo additional traffic for its search engine and eyeballs for its search ads, the deal calls for Yahoo to make PayPal the exclusive third-party provider of its online wallet. Yahoo users will be able to use PayPal accounts to buy a range of premium services from the portal, from financial reports to dating service subscriptions.
PayPal will also be promoted to Yahoo's many independent merchants, who buy monthly e-commerce solutions packages.
Also planned is a co-branded toolbar that will integrate Yahoo's customizable home page and Web mail into a toolbar for eBay users. eBay's toolbar already has about four million users, eBay said.
The longer-range aspect of the deal may be the most intriguing. The two companies will work on "click-to-call" advertising functionality, which will enable Web users to directly dial a merchant via a graphical ad, using Skype's VoIP calling service or Yahoo Messenger.
Click-to-call is seen as having enormous potential, especially for local merchants or those whose products or services don't currently lend themselves to easy online purchases.
Impact Debated
The partnership brings together two companies that have long been competitors in some areas but also have a strong bond forged by an aggressive and formidable competitor: Google.
Though Yahoo and Google compete more directly for search and advertising dollars, Google has been seen moving more into competition with eBay. For instance, it's known to be working on Google Wallet, which could one day compete with PayPal for online payment market share. In addition, its Google Base project could create a formidable online classified ads alternative that could detract business from Craigslist, which eBay owns a stake in, and from eBay itself, since the items sold on the auction platform are often suitable for listing in classified ads.
The deal underscores the collision course that major Web companies are on, with eBay now finding itself in direct competition with everyone from Amazon.com to AOL, Yahoo to Google, Forrester Research analyst Carrie Johnson told the E-Commerce Times.
"The major players are converging into the same space," she said. While Amazon has tried auctions with little success and eBay's past efforts to become a fixed-price sales platform have not displaced Amazon as the top pure e-tailer, "the once bright lines dividing their territories are now entirely blurred."
Indeed, eBay and Yahoo compete in several areas, from providing merchant platforms to online payment and voice calling.
Adding to the Competition
eBay would benefit by generating revenue from visits to its site, even when sales are not made, said Standard & Poor's Equity Research analyst Scott Kessler.
"In our view, Yahoo will enable eBay to better monetize its Web pages with online advertising," Kessler said in a research note. "We believe this relationship and the pending offerings, which we expect to be rolled out beginning later this year, are a significant positive for eBay."
Other analysts say the news had to be seen as a blow for Microsoft, which had been rumored to be talking with both Yahoo and eBay about partnerships and which lost out on another big Internet partnership when AOL expanded its ties to Google, leaving Microsoft at the altar.
Some eBay sellers might be concerned that expanded search listings from Yahoo would mean added competition for eBay sellers, AuctionBytes.com editor Ina Steiner said.
eBay intends to focus its testing on making sure that doesn't happen, she said, and plans are for Yahoo listings in eBay search results to focus on "complementary" items rather than items that could result in sales being diverted to a third-party site that could have taken place on the eBay platform.
In a posting on the eBay site, eBay North America President Bill Cobb addressed that issue, saying eBay's "number one concern is ensuring that the changes we make are right for our sellers and buyers. As we test, we'll be monitoring the impact of any changes carefully, as well as listening to your input"