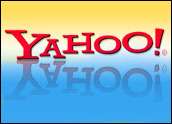 Beleaguered Internet search portal Yahoo has launched a new type of online ad that incorporates traditional search results with images and video.
Here's an example: Go to Yahoo, type in the keyword "pedigree," and a sponsored search result for Pedigree dog food will come up accompanied by a video ad that's been airing on television for the past several weeks.
The new ads were tested with a small group of advertisers during the fourth quarter, and advertisers saw click-through rates rise by as much as 25 percent, Yahoo claims.
The new ads are currently offered on an invitation-only basis. Thus far, Pepsi and Esurance have also created search ads that use images and video, according to Yahoo's search marketing blog.
Yahoo's stock was down .42 percent to US$11.95 per share in mid-day trading on Friday.
New Capabilities
Yahoo's new ads, called "Rich Ads in Search," enable advertisers to
post images and video designed to increase the branding impact of search advertising;
create deep links to relevant pages, which can help drive conversions directly from the Yahoo search results page;
include boxes within the listing that let users search for their desired product or a store location directly without additional navigation. Esurance's listing lets users enter their ZIP codes from the results page for insurance quotes; and
show their logo.
"Rich Ads in Search offers brand advertisers a unique opportunity to secure their branded keywords in a standalone ad unit with a call to action, in addition to offering a more engaging and relevant user experience on the search results page," said Tim Mayer, Yahoo's vice president of search monetization and distribution.
Closing the Google Gap
Yahoo's new search ads are an attempt to take back some of the market share that the company has ceded to search engine powerhouse Google over the years, said Steve Weinstein, an equity analyst with Pacific Crest Securities.
The ads themselves are innovative, he told the E-Commerce Times.
"Bringing more forms of media and creative to search is a great idea, and there are certainly a lot of opportunities to go beyond a little blue link — especially as we're seeing more brand advertisers trying to take advantage of search," Weinstein said. "Plus, it's good for the consumer, who's trying to incorporate information in different ways."
On the other hand, introducing a video component to search ads may act as an additional barrier between consumers and the information they seek on the Web.
"It's an interesting idea, but if I'm searching on the Web, I want information fast, and video doesn't do that," said Rob Enderle, principal analyst at the Enderle Group. "It seems a little wrong-headed to me. A video probably isn't going to tell me whether Pedigree is the right food for my dog."
Higher Click-Through Rates
Yahoo claims the new ads generated click-through rates that were 25 percent higher than regular text search ads during its test run, but that metric may be misleading.
"It could also be the fact that it's new," Weinstein said. "People say, 'What is that?' and click on it."
The click-through rate on a search ad with video is going to be higher, Enderle told the E-Commerce times, because Yahoo has erected a wall between consumers and where they want to go to get information.
"It's not a better experience for the consumer," he said. "It's a false metric."
Google's Brand Is Stronger
The main challenge that Yahoo, Microsoft's Live Search and other search engines face is getting consumers to choose their search engine over Google's, Weinstein observed.
"I don't know that this new type of search ad has a lot of influence over that," he said. "It probably has some, and having a better advertising experience will have some sway. I like the move, but it doesn't address the major problem."