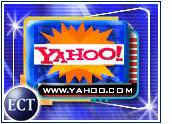 Just days after unsubstantiated rumors of a Yahoo!-eBay merger played havoc with investors, Financial Times writer William Lewis is reporting that the two Internet powerhouses are indeed pursuing a blockbuster deal.
Last week, CNBC reported rumors that the two companies were in merger talks, triggering a rush in after-hours investing that drove eBay to a high of $235 (US$). The investors either disregarded or were unaware of an earlier report from Lewis that the merger talks had died the week before.
However, Wall Street did not buy into the rumors, and eBay's stock dropped. It continued to plummet throughout the day, closing at $189.75 a share. The optimistic investors who bought at $235 — based on the rumored deal — saw the value of their investments drop by 19 percent in hours. However, eBay's stock has since rebounded, and was up $21 to about $245 by midday Friday.
Loose Alliance
Citing sources close to both Yahoo! and eBay, the Financial Times is now reporting that the two companies are discussing a "loose alliance." Ironically, Lewis attributes the renewed talks to the positive reaction of investors to the earlier rumors.
According to his sources, discussion of a possible Yahoo!-eBay merger was originally spurred by January's earthshaking announcement that America Online and Time Warner plan to join forces. However, because eBay has long-term partnership commitments to AOL, a major Yahoo! competitor, the merger talks were quickly dropped.
Competition Heating Up
Competition between eBay and Yahoo! has been heating up in recent days. Yahoo! announced Thursday that it purchased Arthas.com and will be implementing a person-to-person payment system sometime this year to simplify the transaction process for its Yahoo!Auctions site.
Yahoo!'s move came after shortly after eBay announced a joint venture with Wells Fargo Bank to provide the back end processing for its BillPoint service, which also allows buyers and sellers to exchange funds electronically.
Additionally, both companies recently announced forays into the booming business to business (B2B) e-commerce market.
Potent Combination
The combination of Yahoo!'s audience and eBay's sales would be potent. According to MediaMetrix, Yahoo! boasts 45.5 million unique visitors a month, second only to America Online. For its part, eBay recently passed Amazon to become the most popular e-commerce site on the Web.
Yahoo! also has a strong overseas presence that could help eBay further extend its reach beyond U.S. shores.
Grain of Salt
In spite of the encouraging signs, overeager investors learned last week that basing decisions on rumor and speculation can be risky business. Even Lewis' sources admit it is far from certain that talks will lead to any kind of deal.