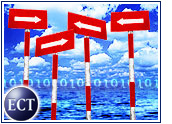 Someday I hope to understand how the U.S. government decides which mergers are allowed to go forward and which get stopped dead in their tracks.
My best guess is that it involves either flipping a coin, drawing straws or pinning tails on a paper donkey. There simply is no other explanation that makes as much sense.
Of course, it's possible that were I privy to the same information as the Federal Trade Commission (FTC), the Department of Justice (DOJ) and their attorneys aplenty, I'd see a pattern emerging. Possible, but not likely.
Rings Around Jupiter
The latest FTC action cut the legs out from under the planned merger of Jupiter Media Metrix (Nasdaq: JMXI) and NetRatings (Nasdaq: NTRT), a deal that sported a fairly humble price tag of US$71 million.
Turns out the FTC staff was going to recommend to the figureheads who supposedly make the decisions that the whole thing just wasn't right, starting with a plan that called for NetRatings to loan cash to Jupiter and ending with the crux of the entire merger.
What was so awful about this merger? Well, it would have created a dominant Web behavior and measurement firm, to be sure. And maybe the FTC got a little freaked out by talk of a single measurement standard for the Web.
But would a combination of Jupiter and NetRatings have been an unbeatable monster, a monopoly with muscle? Hardly.
Come On In
There seem to be two barriers to entry into the Web measurement race: a bunch of people willing to have their online movements tracked or recorded, and a statistical formula that can accurately turn sample data into Web-wide estimates.
Difficult? Sure, but not impossible — and not, frankly, all that expensive. The barriers are so low that a new entrant got into the game late last year, not exactly a high-flying time for such companies.
But what's worse still than the FTC's error in judgment is the bottom line of the agency's decision. If consumers, which in this case happen to be businesses, would have been harmed by the marriage of these two firms, how will those consumers fare when Jupiter is sold off for spare parts?
Hopefully, a better fate awaits Jupiter, but who knows? Soon after giving up the NetRatings ghost, the company put out the dreaded "exploring strategic options" press release. Not long after that, Jupiter stock fell below the two-bits level. In all, not a good day.
Landscape Architects
This is only the latest example of how the government affects the business landscape. And it turns out that the only reason this deal didn't enter the battlefield in earnest is that Jupiter simply couldn't afford to fight.
In comparison, take Homestore.com (Nasdaq: HOMS). The company's acquisition spree a year or so ago had almost everyone in real estate — online and off — in full cardiac arrest.
Those deals went into the negotiation process — the companies involved had deep enough pockets. And a mightier Homestore emerged on the other side and proceeded to prove, if nothing else, that having massive market share doesn't guarantee success.
Barriers Broken
The Feds also effectively handed HotJobs to Yahoo! by delaying the TMP Worldwide acquisition that would have melded Monster.com and HotJobs. That deal got the "more information please" treatment.
But just off camera, The New York Times and The Wall Street Journal were pledging to combine print and digital forces in the job recruiting world. Likewise, Knight-Ridder newspapers, which controls CareerBuilder.com, was gobbling up Headhunter.net and aiming to compete with Monster.com.
What about barriers in this industry? If they exist, they were bashed down most recently by corporate giants, including IBM and Intel, that say they're tired of paying to post on Monster and HotJobs.
Mixed signals from the Feds? To say the least. Hopefully, there is both rhyme and reason to the whole process. Justifying the alteration of the competitive business landscape should take more than just the luck of the draw.
What do you think? Let's talk about it.
---
Note:
The opinions expressed by our columnists are their own and do not necessarily reflect the views of the E-Commerce Times or its management.
---