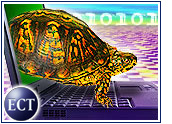 Even as online shoppers multiply and increasingly mirrormainstream consumer profiles, considerable pockets ofe-commerce abstainers remain. These neophytes, hampered by security orfulfillment concerns or inadequate Internetconnections, still rely on the Web only for productresearch.
To reach this untapped revenue source, e-tailers mustwork to simplify their storefronts and establish brick-and-mortar partnerships, analysts agreed.
"[Many e-tailers] need to redesign their sites to makethe shopping experience more intuitive," Meta Groupsenior program manager Gene Alvarez told theE-Commerce Times. "This includes improved searchcapabilities, visualization tools and the integrationof multiple [sales] channels.
"The Web has proven itself as a great investigationtool, so at a minimum, e-tailers need to offerinvestigation capabilities," Alvarez added.
Indeed, multichannel retailers have begun to leveragethe Internet's researching strengths to drive in-storepurchases among late adopters of technology.
Stores Satisfy
Online commerce currently accounts for just 1 percent ofoverall U.S. retail spending, according to the U.S. Department of Commerce,and analysts do not expect this figure to rise above 5percent in the foreseeable future.
"The fundamental issue is that shopping in stores issatisfying in a number of ways that online shopping isnot," Giga Information Group analyst Andrew Bartelstold the E-Commerce Times.
In-store consumers can browse and process informationthat is 360 degrees around them, interact with other people,touch and test tactile goods like apparel andfurniture, and immediately acquire products, Bartels noted.
"Online commerce lacks these features and willprobably never have them," he added.
Real World
Still, some online retailers have tried toreplicate the physical shopping experience in an effort to lurebrick-and-mortar loyalists.
For example, clothing retailer Lands' End hasearned analysts' acclaim for its virtual models, whichsimulate a fitting room environment. Similarly, realestate firms like Homestore.com andCentury21 havestreamlined sales processes with online virtual home tours.
"These types of innovations are helpful for clothingand other categories where the look of the product isas important as its specifications," Bartels said.
Other sophisticated sellers like Dell Computer (Nasdaq:DELL), Travelocity(Nasdaq: TVLY) and Expedia (Nasdaq:EXPE) target discerning customers with numerouscustomization options and "what-if" scenarios, he added.
Timid Travelers
Expedia's strategy for pleasing e-commerce neophytesis to convince them rapidly that online travel bookingcan save them money and time.
"We will return more than 500 potential flightcombinations for most airfare searches," Expediamarketing manager Mitch Robinson told the E-CommerceTimes. "But we allow you to order the search resultsby what is most important to you — price, arrivaltime or duration of flight."
To alleviate newcomers' security and credibilityconcerns, Expedia prominently displays three privacyseals — TRUSTe, BBBOnLine and PricewaterhouseCoopers.
In addition, the company provides around-the-clock customerservice via telephone for shoppers who are used to dealing with a physical travel agent.
"The customer service line allows us to help lateadopters [become] confident and comfortable with theprocess," Robinson said.
Research Project
For its part, multichannel electronics retailer Best Buy (NYSE: BBY)caters to recent e-commerce entrants with extensiveonline product information.
In fact, for some complex products, like appliances,cell phones and XM radios, Best Buy allows shoppersto conduct research online but requires in-store purchases.
"Our online product information plays well to lateadopters," Best Buy spokesperson Donna Beadle told theE-Commerce Times. "And our in-store pickup optionputs fulfillment fears to rest for leery Internetnewcomers."
Cross-Training Strategy
Most multichannel retailers like BestBuy use onlinecontent and information to lure hesitant buyers intophysical stores, Bartels noted.
But some outfits, like Kmart (NYSE: KM) andGap (NYSE: GPS), havecrossed sales channels in the other direction,enticing in-store browsers with Internet connectivitypromotions and Web kiosks, respectively.
In both cases, analysts agreed, brick-and-clickretailers are better equipped to attracte-commerce-phobes than are pure e-tailers.
"In most product categories, the e-tailers that haveperformed the strongest have stores tied to them,"Alvarez said.