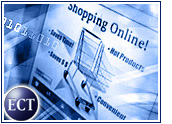 It is abundantly evident that the number of online buyersis multiplying at a healthy rate.
E-tailers will surely extend open arms to thethrongs of newcomers, but they may not be ready fortheir entirely new customer personalities. The fact is,the Internet is reaching the middle class en masse,ushering in legions of mid- to late-term technology adopters.
Earlier this week, Jupiter Media Metrix estimated thatthe U.S. online shopping population, which now numbers 66 million, will double to 132 million in the next five years. The kicker:The majority of U.S. online shoppers in five years will be over the age of 35 and from households with annual incomeof between US$30,000 and $75,000.
To earn the loyalty of these Average Joes, e-tailers will have tofocus on utility and simplicity rather than onflashy design and bleeding-edge functionality.
Elder Shoppers
Until recently, and with good reason, many Internet companies — e-tailersand multichannel retailers included — targeted young, relatively affluent, technology-hungry adults.
After all, young adults comprise 47 percent of today'sInternet shoppers, while consumers ages 50 and upconstitute just 16 percent of the e-shopping population, according to Jupiter's report.
In the fanciful formative years of e-commerce, theWeb has been replete with infinitely customizablesites and ever-rising benchmarks for designsophistication.
But between now and 2006, the young adult populationthat has eagerly lapped up whiz-bang new technology will account for just 19 percent of new online shoppers.On the other hand, older consumers will make up 30 percent of those new shoppers.
Simple Sells
Consequently, most broad-scoped retailers will have toadhere to a new litmus test for prospective featuresand functionalities. As one industry observer put it, "Does it pass 'the grandmother test'?"
That is, will your grandmother understand thischeck-out process, favorites list or productcomparison tool? If not, fasten your retooling hat,because simple sells.
Litmus Test
This truism has come to light in the epic saga of onlinesecurity. Visa and MasterCard, for example, may have run theirlatest password-based credit card security systems bya few grandmothers.
Visa's Verifiedby Visa program and MasterCard's UniversalCardholder Authentication Field (UCAF) standardand Secure Payment Application (SPA) requirecardholders to enter a password to authorize onlinetransactions. That's it.
Anyone who has an ATM card knows the drill. Notsurprisingly, more than 18 percent of online consumersare embracing these simple security programs. Meanwhile, most userscontinue to shun more complex systems, such as public key infrastructure (PKI), smart cards and disposable card numbers, according to recent research from GartnerG2.
Head of the Class
Will or should e-tailers place a moratorium oninnovation and aesthetics to appease neophytes?Absolutely not.
Sites do not necessarily have to sacrifice eleganceand sophistication for simplicity. For instance,several clothing retailers — including Lands' End, Guess and Orvis — use technologyfrom MyVirtual Model to let shoppers try on clothes usingcyber-replicas of themselves.
Back to Basics
On the other hand, Michigan-based office furnitureretailer HermanMiller offers a three-dimensional productconfiguration tool that requires customers to downloada client-based application.
This is one of the smoothest online gadgets I haveencountered, but would Grandma get it? I know minewouldn't (nothing personal, Grandma).
To be fair, most of Herman Miller's customers arehigh-brow executives with bandwidth to spare. But mostmainstream retailers will face steadier streams ofpurposeful, middle-class customers in the coming years.
In any case, tomorrow's e-tail marketers should stayespecially attuned to an axiom that is far older than theInternet or any of its shoppers: Know your customer.
---
Note:
The opinions expressed by our columnists are their own and do not necessarily reflect the views of the E-Commerce Times or its management.
---