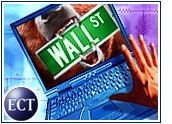 Three years is a long time, especially in the business world. That's how long it's been since the technology sector, symbolized by the Nasdaq stock exchange, turned its back on the work-all-day-party-all-night lifestyle and decided to stay in and take a long nap.
Look at it this way — if the technology downturn were a dog, it'd be old enough to buy itself a beer in the local pub. In some ways, it is a dog — an unwelcome stray that everyone has been trying to shoo away from the porch of the tech world. It's not a mean dog, exactly, but the longer it sits on the porch, the worse things get.
Solace has always resided in the inevitability of an uptick, though. These things come in cycles, we're told. Just wait and see. But what happens if the recovery doesn't come? What if that downturn dog decides to stick around?
It Could Happen
First off, the premise isn't that far-fetched. Although the U.S. economy has started to expand again, it's not exactly going great guns. And some economists think that because of the productivity gains made possible by automation and the Internet, powerful growth will be needed to grow jobs. No one is saying that's in the cards.
The big tax break is supposed to help, but the fundamentals need to improve first. Businesses need reasons to invest and expand, not just incentives.
So, assuming we could remain in recession for some time — I've seen one of the leading Democrats' economic stimulus plan, and it didn't give me a warm, fuzzy feeling — what happens to the tech world?
Just in Case
Many moves have already been made to get companies through the muck and back onto dry land. Consolidations like the PeopleSoft-J.D. Edwards merger are just the ticket. The companies will wring out a few million in cost savings, grow sales a bit and position themselves for the upturn.
Oops. There we go again, assuming it will happen. Have to break that habit. Certainly, we'll have fewer tech companies in a couple of years than we do now if a recovery fails to materialize. Those that are barely hanging on will be snatched up by companies that want to bolster their revenue stream, adding another penny or so of profit to the bottom line to show investors something that resembles, if you squint and look at it sideways, good news.
But wait! The stock market is rebounding. EBay shares even spent a few hours above the $100 level recently, before a big, bad lawsuit dampened enthusiasm ever so slightly. Doesn't that mean something?
Some Good, Some Bad
It most likely means that investors and others want to will a recovery into existence. Maybe that can happen. But maybe not. EBay's probably all right either way. But what about Amazon? Can it follow the eBay model and thrive in bad times as well as good? How many other e-tailers can do that?
Bigger technology companies might have to worry, too. But the funny thing about servers, storage units and desktop machines is that they wear out. Even without growth, there will be demand.
The Gateways of the world, the companies slipping off the pace in their respective markets, will be battered a bit more, but the Dells and HPs, which have found ways to save millions with a snip-snip here and a chop-chop there, will manage to make replacement purchases look like pure gold on the balance sheet.
Ain't So Bad
Even if the tech economy only treads water, it will still be an impressive beast, one that continues to generate wealth for many people and produces great products that will matter in the future. That's not so bad.
The downturn dog just can't be kicked to the curb. It's not that easy. Besides, a little while longer and he'll feel like part of the family. Does anybody really remember when he wasn't around?
---
Note:
The opinions expressed by our columnists are their own and do not necessarily reflect the views of the E-Commerce Times or its management.
---