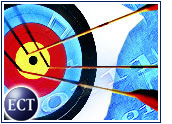 Three of the best-known technology companies have posted fresh earnings reports, and while none contained blockbuster successes, most were about on par with expectations.
Results from Apple, chipmaker AMD and Sun Microsystems mirrored earnings reports released by other companies earlier in the week. Taken together, the results paint a picture of a slow quarter, but one that companies were able to make adjustments to handle.
IDC research director Stephen Minton told the E-Commerce Times it is possible that enterprises will rein in spending on technology even more until there is a clear sign of economic recovery.
"A double-dip IT recession cannot be ruled out yet," Minton said. "Companies counting on a return to growth need solid strategies to make it happen."
Where Is the Sun?
Sun managed to meet targets with a US$4 million net profit, but it fell short of revenue goals with just $2.79 billion in sales, a 10 percent decline from the first quarter of 2002.
Economic uncertainty also forced the equipment maker to defer forecasts for future growth. In a conference call, Sun CFO Steve McGowan said some large orders likely were delayed during the quarter because of war in Iraq and other variables, but he also said sales activity picked up in the last two weeks of March.
Two bright spots for Sun were mid-range server sales and services, which saw a 7 percent jump.
CEO Scott McNealy said Sun met estimates despite apparently flat market share and share losses in some segments. "While we don't have market share gains, we are holding our own," he said.
An Apple a Day
For Apple, quarterly profits tumbled some 65 percent compared with a year ago, but the computer maker still managed to beat earnings estimates by 2 cents per share, largely on the strength of notebook computer sales, which made up 40 percent of the 711,000 Macintosh units shipped in the quarter.
Apple launched its 17-inch PowerBook early this year with a major marketing push behind it, prompting CEO Steve Jobs to say the company was embarking on "the year of the notebook."
Still, Apple downgraded expectations going forward, saying sales likely will be flat in the current quarter.
The company also used the occasion to downplay rumors it had bid on Vivendi's Universal Music business, issuing a statement from Jobs saying Apple "has never made any offer to invest in or acquire a major music company."
An AMD SOS?
The most troubling results may have been those posted by AMD. The number two maker of microprocessors said first-quarter revenue plunged 21 percent to $714.5 million, leading to a loss of $146.4 million. Last year, AMD lost just $9.2 million in the same quarter.
Surprisingly, the company did not benefit from Intel's acknowledged market share losses in the flash memory space. Intel cited the loss in its earnings report earlier in the week, sparking speculation that AMD was making gains.
But AMD's flash chip sales grew only slightly, rising to $218 million from $217 million in the last three months of 2002.
The tech earnings season, which got off to a strong start thanks to Yahoo!, will wind down over the course of the next two weeks. E-commerce bellwethers eBay and Amazon.com both report next week, and analysts are watching to see whether around-the-clock coverage of the Iraq war caused enough consumer distraction to dent earnings.