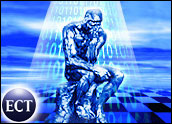 Piloting an e-business from the corner office hasproven to be too stiff a challenge for many chiefexecutive officers.
To excel in the corporate top spot, technologyexecutives must mix some unique aptitudes with therequisite leadership and management skills, according to analysts.
"We have learned from the naivete of many of thedot-com CEOs," Jerry Wind, a professor at the WhartonSchool of the University of Pennsylvania, told theE-Commerce Times. "[E-business CEOs] have to be muchmore concerned with the validation of theirassumptions and business models."
Successful technology bosses must be thick-skinned yetreceptive, nimble yet resolute, and diplomatic yetcommanding, analysts agreed.
Turnover at the Top
In January, the technology sector saw 12 CEOturnovers, second only to the financial sector, whichhad 13, according to outplacement firm Challenger, Grayand Christmas.
Overall, CEO departures increased almost 20 percent inJanuary, to their second-highest level in seven months.
Why the carnage? Wind said many e-business leadersare facing a much more hostile environment than theirtraditional industry counterparts, so they must showgreater commitment and a willingness to deal withadversity.
"The 'e' has become almost negative," he added. "It istougher for e-business CEOs to get funding and to getthe attention of large clients."
Change Managers
Today's top-notch executives must be prepared totransform their organizations to respond to economic and technological adversity, according to Wind.
Short-term profits proved too lofty a goal for manye-businesses, but Amazon.com chief Jeff Bezos was oneexecutive who met the challenge, according to analysts.
"It is a tribute to Amazon's management team that thecompany has made changes in its business philosophy andoperational model that take it away from being a pure-play e-tailer," Yankee Group analyst Paul Ritter toldthe E-Commerce Times.
Indeed, Amazon owes its profitability to partnerships with brick-and-mortar retailers likeBorders, Circuit City (NYSE: CC) and Toys "R" Us (NYSE:TOY), which accounted for 25 percent of its revenuelast quarter, Wind noted.
"It was like taking the tires off while going 100miles per hour," he said of Amazon's metamorphosis."It required cutting fat but developing new muscle,keeping investors happy with short-term performancewhile still investing in growth."
New World Order
The transformation that Amazon has undergone is onethat most e-businesses must face, according to Wind,because of ongoing convergence of the virtual andphysical business worlds.
Another boss who has exhibited the agility anddiplomacy necessary to execute such transformation isSteve Case of AOL Time Warner (NYSE: AOL), Wind said.
Case has created a meaningful integration of old-worldand new-world companies and has bridged the resulting culture divide to forge the world's largest mediacorporation, he noted.
Lou Gerstner of IBM, while not quarterbackingmegamergers, has shown similar dexterity during hisnine-year tenure by deemphasizing personal computersand transforming his company into a software andservices powerhouse, Wind added.
Bay Day
Perhaps the only e-business that has not faced suchtransformational challenges is auction kingpin EBay(Nasdaq: EBAY), whose CEO, Meg Whitman, has created anew benchmark for e-commerce prowess, analysts agreed.
From the outset, Whitman has remained steadfast in herfiscal discipline and diplomatic in her managementstyle, according to EBay spokesman Kevin Pursglove.
"Meg committed to running EBay by old-economy rules,"Pursglove told the E-Commerce Times. "While [othere-commerce companies] competed for first-moveradvantage and market share, Meg ensured that expensesdid not outpace revenue and that every dollar investedreturned at least a dollar."
Whitman's resolve has paid off, literally. EBaygenerated 2001 revenue of US$748.8 million,representing 74 percent annual growth, and pro formanet income of $137.5 million, representing 135 percentyear-over-year growth.
Sounding Board
So, how can e-business CEOs emulate this kind of success?
Analysts suggested forming decision support networkscomprised of unbiased, diverse advisors to examineideas and strategies.
"Many [technology executives] do things that have beenreinforced in past [scenarios]," Wind said. "But theyneed a forum that allows them to challenge assumptionsand redesign strategies."