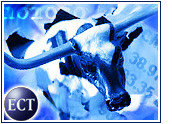 Bellwether e-tailer Amazon.com (Nasdaq: AMZN) delivered its first-ever profit when it reported fourth-quarter earnings Tuesday, as international growth propelled it past the US$1 billion sales mark for the first time.
"We nailed the quarter," Amazon chief financial officer Warren Jenson said in a conference call. "We exceeded expectations on virtually every line of our income statement."
"Overall, an impressive performance," Morningstar.com stock analyst David Kathman told the E-Commerce Times. "Amazon's top line also improved nicely, which was good to see since this has been one of my areas of concern with them."
"The big question now is how much they can re-accelerate their top line and how big they can become," Kathman added. "That's what I'll be watching over the next year."
Unanimous Applause
Amazon said it did $1.12 billion in sales during the last three months of 2001, a 15 percent increase over the $972 million recorded in the same period a year earlier. International sales grew 81 percent, according to the company.
The Seattle, Washington-based e-tailer said it exceeded its own goals by delivering not only an operating profit but also a pro forma net profit of $35 million, or 9 cents per share. A year ago, Amazon reported a loss of $90 million.
Expectations Exceeded
Even under generally accepted accounting principles (GAAP), which take such factors as stock compensation and interest payments into account, Amazon said it still turned a profit of $5 million, or a penny per share.
Amazon had only promised to record an operating profit — a definition that excludes almost all additional expenses.
In addition to overseas sales, the strong quarter was fueled by Amazons original core sector of books, music and video, which saw sales grow 12 percent after stalling for several quarters. Jenson said steeper discounts and free shipping offers helped drive growth in that sector.
More Free Shipping
During the conference call, CEO Jeff Bezos said Amazon will make a free shipping offer for all orders over $99 a permanent fixture on the site.
"This is a big deal and a significant investment for us," Bezos added.
Bezos said the company's own research has long shown that many potential Amazon customers do not buy from the site because of shipping costs.
"We've found that free shipping was an objection to shopping [with] us maintained by many people," Bezos said. "The thing that held us back from doing this in the past was economics. But our cost improvements over the last two years make this bet worth taking."
EBay Faceoff?
Amazon also said it will focus additional resources on its marketplace, where used items are sold alongside new products. In the fourth quarter, 15 percent of all U.S. orders were for used products. New products from third-party vendors now will be sold in the marketplace area, according to Amazon.
Amazon's marketplace has many of the same features as auction rival EBay, which increasingly has made fixed-price sales a component of its own offerings.
For all of 2001, Amazon posted net sales of $3.12 billion, a 13 percent increase over 2000. The e-tailer said it ended the year with about $1 billion in available cash.
Looking Ahead
Although it qualified its predictions, Amazon said it stood to record net sales of $775 million to $825 million in the first quarter — an 11 to 18 percent increase from the year-ago period — with profits shrinking to break-even levels or a loss of up to $16 million.
For the full year ahead, Amazon projected 10 percent sales growth, positive cash flow and an operating profit of $30 million.
Jenson also said Amazon will expand its partnerships with Circuit City and Target stores in 2002, and will have a planned cooperative effort with AOL in place by the holidays.
"We're very focused on improving our technology to make it easier for partners to sell with us," he said. "The tide is with us. The momentum is solidly in our favor. Our prospects are terrific for this sector."
"As pleased as we are with this quarter, we have a ton of work to do," Bezos said. And it was clear that Bezos and his team were pleased. As the conference call ended, Amazon executives could be heard applauding and exchanging high-fives.
Investors and analysts seemed to share in Amazon's jubilance. In early trading Tuesday, Amazon shares shot up 25 percent to $12.70 on the news before settling back.