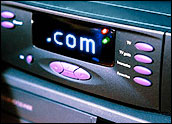 An appeals court declined to issue a stay on steep hikes in royalty fees for Internet radio, clearing the way for the new fees and 18 months of retroactive collections — which some say could kill Web radio — to come due on Sunday.
The U.S. District Court of Appeals for the District of Columbia Circuit refused to issue a stay to the July 15 start date for collecting fees under the new royalty schedule, which was approved by the Copyright Royalty Board (CRB) in March.
However, it appeared that late Thursday, SoundExchange, the arm of the Recording Industry Association of America that collects the royalties, had told key lawmakers it would not take legal action against Web radio stations after the deadline, as long as negotiations on a new licensing and royalty scheme are ongoing.
Not Enough Time?
Internet radio companies petitioned the court for the delay, saying it was needed to give time for an ongoing lobbying effort aimed at getting Congress to step in and override the CRB's ruling.
The court's ruling shows that the CRB "got it right when they set royalty rates and terms for the use of music on Internet radio," said SoundExchange Executive Director John Simson.
"We continue to reach out to the webcasting community to reach business solutions," he added.
Web radio stations say the new, higher royalty rates, and a retroactive component of the decision, which extends the royalty fee schedule back to the beginning of 2006, are unnecessarily onerous and possibly fatal to some smaller stations.
Under the Royalty Board ruling, payments for 2006 and the first half of 2007 are due on July 15. The new royalty rate is US$0.0008 per listener per song, a rate that more than doubles to $0.0019 in 2010. At their peak, the new rates will be as much as 1,200 times higher than previous fees.
The CRB also instituted a minimum payment of $500 per channel for all stations, regardless of their size. While that requirement targets smaller stations, it may also impact larger ones such as Pandora, RealNetworks' Rhapsody and Live365 that offer customized radio channels that have relatively few listeners.
Noise and Silence
Web radio stations have attempted to build political support for their cause, holding a day of radio silence last month during which many popular services shut down in protest. Some lawmakers have been receptive to the idea of a compromise, but a bill filed in April to set aside the CRB decision has not moved forward.
Web radio stations say they're being singled out since traditional radio stations pay only royalties to songwriters while Internet radio pays both songwriters and the performers.
The six largest Web radio stations would owe almost half of their total revenue from 2006 in royalty fees to SoundExchange, according to SaveNetRadio Coalition. Many others, including those run as hobbies, would have to shut down in the face of the new fees, the group claims.
Web radio backers are pushing a compromise that would bring Internet fees in line with those paid by satellite radio stations, which pay a flat fee of 7.5 percent of annual revenue.
A large number of Internet radio stations will not be able to make the retroactive payments, Jonathan Potter, executive director of the Digital Media Association (DiMA), told the E-Commerce Times. The group estimates that with the new minimum fees in place, annual royalties could top $1 billion.
The court's decision means scores of webcasters must "make very difficult decisions about what music, if any, they are able to offer listeners."
Potter remains optimistic Congress will step in at some level to either broker a compromise or set a new rate.
If not, he said, "the result will certainly be fewer outlets for independent music, less diversity on the Internet airwaves and far fewer listening choices."
Negotiations Continue
While the court's decision not to intervene means Sunday's deadline looms large, efforts to reach agreements between SoundExchange, lawmakers and Web radio concerns continued late Thursday after the ruling.
At a meeting billed as a roundtable discussion chaired by Rep. Ed Markey, a Massachusetts Democrat, SoundExchange offered a compromise that would drop the minimum payment requirement and allow stations that aren't current on back-due payments to continue to operate past Sunday's deadline as long as negotiations are continuing.
A host of issues were reportedly on the table at the talks, including possible changes to the per-channel minimum fee, including a cap on how much large webcasters with multiple channels would be required to pay.
In exchange for changes to the CRB ruling, SoundExchange may ask webcasters for more help in battling piracy, such as broader implementation of digital rights management tools means to prevent music streamed over the Internet from being copied.
The fee structure approved by the CRB is widely seen as ruinous to Web radio.
It appears that even if Internet stations used every available space on their pages to display advertising, based on traffic counts and other factors, most would not be able to stay profitable, especially as the rates reached their high point in 2010, said ABI Research analyst Michael Wolf.
Many Web radio users listen from work, likely leaving the music streaming in the background on their PCs all day long, a practice that could rack up significant royalty bills for the stations they're listening to, he noted.
"Even subscription-based services would be hard-pressed to stay in business," Wolf told the E-Commerce Times, adding that few listeners would be willing to go above the $10 per month that Rhapsody now charges. "The rhetoric is very heated, but it appears these rates may effectively be high enough to kill the webcasting industry."