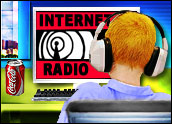 Internet radio listeners looking forward to another day of their favorite music Tuesday found only silence on many stations, as webcasters and broadcasters nationwide observed a day of silence to call attention to the crisis currently facing Internet radio.
Tens of thousands of U.S. webcasters participated in the event, including Yahoo Launchcast, Live365, MTV Online, KCRW and Pandora. Their aim is to protest the recent 300 percent royalty rate increase for online music webcasters and rally support for legislation pending in Congress.
"This day of silence is an effort on the part of webcasters to drive their listeners to speak up — to turn up the volume on their own voices as they send a message to Congress," Jake Ward, a spokesperson for the SaveNetRadio Coalition, told the E-Commerce Times.
A Silent Future?
Following a recent Copyright Royalty Board (CRB) decision, 17 months' worth of retroactive royalty payments at newly increased rates will be due to the SoundExchange collection organization on July 15. Because those rates are far more than most webcasters can afford, silence is all Internet radio listeners will find after that date — unless legislation is passed, according to SaveNetRadio.
There are currently about 50 million people who listen to Internet radio, Ward said. In the past two months, listeners, webcasters and artists have directed nearly half a million e-mails and phone calls to Congress expressing their support, he added.
"But there is more to be done, and time is running out," he added. During the day of silence today, "we want every listener to pick up the phone" and ask their congressional representatives to support the Internet Radio Equality Act, he said.
Opening Doors
Internet radio has opened doors for both artists and listeners, Ward explained, empowering listeners to discover new music and enjoy what they like while allowing artists to reach new audiences without any geographical limitations.
"All of that is at risk," he said, thanks to the new royalty increase as well as an "absurd" administration fee being imposed by the Copyright Royalty Board.
"We are about to enter a golden age of music," Ward explained. "The digital era has made it possible to compose, produce and distribute music without the help of labels, producers, or distribution corporations. Those doors are now open to everybody."
Restoring Balance
The Internet Radio Equality Act would restore balance, he added, and allow Internet Radio to survive.
"No one benefits from silence," Ward concluded. "This isn't about who's going to get the last dollar — it's about who's going to learn to make the first dollar."