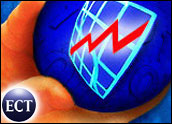 Internet traffic to online news sites and U.S. government pages surged as the U.S.-led war with Iraq got under way, with some sites experiencing a 50 percent increase in visitors, according to Web measurement companies.
The surge came without any reports of disruptions or widespread slowdowns, even though many of the leading news sites have only recently begun to offer bandwidth-intensive streaming video and audio downloads.
Nielsen//NetRatings said most major online news outlets saw double-digit traffic growth Wednesday, the day the bombing began in Iraq. CNN.com drew 3.7 million unique visitors, a 30 percent increase over the week before, for instance.
Work Connections
"Online news sources have a distinct advantage during the workday," said Nielsen//NetRatings senior Internet analyst Greg Bloom.
The eight-hour time difference between the U.S. East Coast and Iraq enables surfers to take advantage of high-speed connections at their jobs, he added.
"Since 9/11, we've seen many of the top Web news sites gain viewers online as they seek instant coverage of events," Bloom said.
MSNBC.com saw a 38 percent jump in traffic, with 3.3 million unique visitors Wednesday. Also in the top five were Yahoo! News, with 2.6 million visitors, NYTimes.com, with 1.1 million, and WashingtonPost.com, with 1.07 million visitors — a 34 percent jump. Traffic doubled to USAToday.com, according to Nielsen//NetRatings data.
Fellow Web traffic measuring service comScore/Media Metrix recorded even bigger jumps for some news sites Wednesday, with traffic doubling to FoxNews.com compared with an average day during the previous week. Traffic was nearly twice as heavy to the Web site for Time Magazine and was up 84 percent to the Associated Press site.
Another Opportunity
Analysts say the Internet matured as a news source during and immediately after the terrorist attacks on the United States on September 11, 2001. In the aftermath, millions of Web users used the Internet to donate money or express their grief, paving the way for more widespread Web use by many who had been reluctant to venture online in the past.
"Every time a major event like this happens, the Internet gets another test, another chance to prove itself," Forrester Research analyst Christopher Kelley told the E-Commerce Times. "People are motivated to try the Web, to try new areas of the Internet they didn't before. A good first impression is essential."
Just as more people were willing to buy items online after using the Web in the aftermath of September 11th, more may learn to trust online content now. Some analysts believe broadband adoption could spike as at-work Web surfers see the benefits of having faster connections at home as well.
In fact, several news outlets launched streaming media offerings just before the conflict began. For example, Yahoo! launched its Platinum service with streaming news from ABCNews.com just two days before the fighting began.
Government
Traffic to U.S. government sites, already heavy because of the approaching tax-filing deadline and recent alerts about homeland security, continued to climb.
The number of visitors to both the Department of Defense and Department of Homeland Security sites grew in the double digits last month, with one-third of the entire U.S. Internet population visiting at least one federal government site.