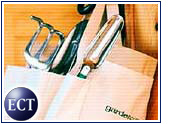 Just two months after announcing plans to shutter its operations,Garden.com said Wednesday it has completed the sale of its major assets to Walmart.com and the parent firm of gardening company W. Atlee Burpee & Co. for a total of US$4.43 million.
Although it had been in business for nearly five years and attracted 1 million members during that time, Garden.com was forced to put its assets up for sale and lay off its entire workforce in mid-November after struggling for months to secure additional funding or locate a buyer.
The Austin, Texas-based company said it now plans to continue evaluating bids and other strategic alternatives for its remaining assets, including hardware and equipment, supply chain technology and Green Cheetah, its majority-owned subsidiary.
"While all of us at Garden.com deeply regret that we will not personally be able to see through our original vision, we are particularly excited that Garden.com will have a chance to 'live' through two of the most highly respected companies existing today," said Garden.com president and chief executive officer Cliff Sharples.
Garden.com announced that its shareholders approved the planned liquidation at a meeting this past Monday.
Details of the Sale
Under the terms of the agreement, Walmart.com has acquired all of Garden.com's content assets, including editorial, interactive and film content.
The Internet arm of the retail giant said it will begin integrating parts of the content into its brick-and-mortar garden centers nationwide, as well as into the Walmart.com site this year, on a limited basis. Fuller integration into the site should come next year, Walmart.com said.
For its part, Burpee Holding purchased Garden.com's brand assets, including the company's URL and certain assets relating to customer information. Garden.com noted, however, that the transfer of individual customer and member data is "subject to providing prior notice and providing the individual the right to exclude his or her individual information."
In a mailing to customers Wednesday, Garden.com said this information includes "customer and/or member names, e-mail addresses, addresses, and order history." The e-tailer also said that it will not transfer any personal financial information.
Distributions Unsettled
The company also warned shareholders that it is "unable to predict the ultimate nature, amount or timing of any distributions." Although it currently estimates that it will be able to offer between 10 and 25 cents, Garden.com said the final distribution is contingent upon its ability to settle liabilities, achieve sufficient value for its remaining assets and secure adequate reserves for its liquidation plan.
Garden.com currently estimates its cash position at $2.8 million — which does not include the proceeds from its asset sale to Walmart.com and Burpee Holding — with approximately $2.7 million in liabilities.
When the company held its initial public offering (IPO) in September 1999, it raised $49.2 million.