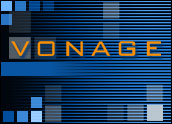 Internet phone company Vonage says its legal woes have severely restricted its ability to add new customers and ultimately could lead to bankruptcy court, according to a regulatory filing.
Shares of the New Jersey-based VoIP (Voice over Internet Protocol) service provider dropped 6 percent after the company warned this week that legal wrangling with Verizon Communications over patent infringement issues could disconnect the company entirely.
Vonage Paying the Charge
The financial difficulties stem from a court decision last month, in which Vonage was ordered to pay Verizon US$58 million plus royalties on future sales because a jury found the company had infringed on three patents owned by Verizon.
Verizon had sued Vonage in federal court, claiming the technology used to connect Vonage's 2.2 million subscribers to telephone service through Internet connections infringed on five Verizon patents.
At the time, the court barred Vonage from adding new customers. However, an appellate court issued a stay of that injunction, ruling that Vonage could continue signing up new customers until April, 24 when it will rule on whether or not to make the injunction permanent.
Most of the company's $607.4 million in revenue last year came from customers' subscription fees.
"If we are prohibited from offering our service to new customers, we will be required to cease selling our service through all channels," Vonage said in its annual report filed with the Securities and Exchange Commission.
No Workaround?
Vonage is accused of lifting Verizon technology that links calls made over IP networks with phones on traditional phone circuitry. The ruling now means that Vonage customers can only call other VoIP users, according to the company.
Perhaps Vonage's biggest problem is it has found no workaround for the VoIP technology it has been using. Company officials have stated publicly that they are not sure if they can develop one that would work with its phone service.
"While Vonage has been considering design-around options, it does not have a design that can be implemented immediately, if such a design-around is even feasible," the company said in the filing. "In fact, current design-around options contemplated could take many months."
Looking Ahead
The court's ruling is a considerable setback for VoIP in general, Sally Cohen, a research analyst at Forrester Research, told the E-Commerce Times.
Because of an increasingly competitive landscape, only 5 percent of online households currently use VoIP, according to Cohen, and even fewer say that they plan to switch.
Because VoIP providers such as Vonage and rival SunRocket have struggled to connect with consumers, the ruling isn't likely to win over any new converts.
"VoIP technology stands to change the market by liberating voice from the phone," Cohen said, adding that in order to gain traction, VoIP marketers should "position their services closer to the traditional phone" while pointing out the benefits of VoIP.
However, those benefits now appear to have been stifled by the ruling. "Mainstream consumers don't use VoIP today and won't choose VoIP tomorrow," she noted.
Vonage has been on rocky footing since the lawsuits were filed last year. The firm's CEO, Michael Snyder, resigned last week as the company announced plans to lay off employees while cutting expenses by $30 million in 2007.