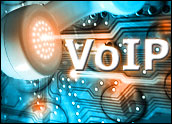 VoIP (Voice over Internet Protocol) firm Vonage will continue to provide service to its 2.2 million customers and sign up new subscribers after an appeals court granted it a stay of an injunction late Friday.
The stay came after a judge issued an injunction earlier in the day Friday that would have barred Vonage from signing up new customers. That injunction was itself a compromise meant to avoid a complete shutdown of the service while protecting the interests of Verizon Communications, whose patented technology Vonage has been found to be using without permission.
Within hours of the original injunction, Vonage had won a stay from the U.S. Court of Appeals. On Monday, Vonage said it views the stay as "the first step toward resolving this matter in Vonage's favor."
The stay will remain in effect while the Appellate Court considers making it permanent, Vonage noted.
However, the upbeat comments from Vonage weren't enough to stop the company's shares from sliding further. Vonage stock traded down more than 9 percent in midday trading Monday to US$3.06, though that was up from an all-time low of $2.88 reached earlier in the day.
OK for Now
On Friday, Vonage was ordered to post a $66 million bond, a move meant to guarantee the company would have the ability to pay the $58 million judgment levied against it after it was found to have infringed on four Verizon patents covering technology such as the transmission of VoIP phone calls to traditional phone networks.
In addition, Vonage will create an escrow account and make payments equivalent to 5.5 percent of all new subscriber revenue — the ongoing royalty amount it is due to pay Verizon if the original verdict holds up through promised appeals.
The next step in the process will be for the appeals court to decide whether to make the stay permanent. If it does, Vonage will have breathing room to operate until its appeals have been exhausted. If not, however, Vonage will likely face another countdown to being shut down completely, or at least to having its ability to register new customers shut off. Last week, a company attorney told the circuit court that issued the injunction that preventing Vonage from signing up new customers would amount to a death sentence for the company.
One way Vonage could avoid facing a shutdown is to develop a workaround of the Verizon-patented technology. However, Vonage has not held out the promise of a workaround the same way that Research In Motion did when it promised customers it could keep its BlackBerry service up and running even though it faced an injunction from patent holder NTP. Nevertheless, Vonage did say in its release Monday it "continues to work on designing around the Verizon patents."
Moreover, a workaround would likely require a slew of technological adjustments to other systems already in place, according to Stanford Group analyst Clayton Moran. Even the user-installed software that comes with Vonage may have to be tweaked, he wrote in a research note.
"This could be a complicated, time-consuming process," Moran stated.
Buying Time
While the temporary stay is "good news for Vonage," it "does nothing to address the real issue," telecom analyst Jeff Kagan told the E-Commerce Times.
"The question of whether Vonage will continue as a competitor is still up in the air," he added.
The continued legal woes for Vonage — it also faces a separate suit from Sprint Nextel due to go to trial in the fall — ratchets up the chances it will be seen as a favorable takeover target, said Jupiter Research analyst Joseph Laszlo, who said cable companies and other VoIP providers are among those likely to start kicking the company's tires.
Meanwhile, Vonage may well face the prospect of losing more customers. "At some point, the prospect of months of legal uncertainty — combined with special offers from the competition — has got to wear down whatever loyalty you've got left," he told the E-Commerce Times. "Vonage's churn was high before the patent case, it's only going up."