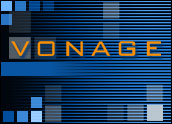 In a widely expected but potentially devastating development, a federal judge Friday issued a permanent injunction barring VoIP (Voice over Internet Protocol) firm Vonage from using technology that a jury last week found was first developed and patented by Verizon Communications.
Judge Claude Hilton said he issued the injunction after finding that it was necessary to "prevent continued erosion of the client base" of Verizon. The judge also agreed to hear Vonage's argument for a stay and put the injunction on hold for two weeks.
The injunction was considered all but inevitable after a jury last week found Vonage had violated three patents held by Verizon relating to VoIP phone technology. Vonage was ordered to pay US$58 million to Verizon as well as ongoing royalties on every subscription it sells.
Fast Selling
Trading in Vonage shares was halted midday Friday as news of the injunction began to spread. When trading resumed mid-afternoon, the stock plunged some 25 percent to $3.03, a new all-time low. The volume of stock traded was more than six times the daily average.
"We are confident Vonage customers will not experience service interruptions or other changes as a result of this litigation" Vonage CEO Mike Snyder said after the injunction was announced.
Judge Hilton will decide after the upcoming hearing on a stay request whether to make the injunction effective, Vonage stated. If he does so, the company said it would immediately ask the Federal Court of Appeals for a stay. Vonage indicated it was still working on its appeal of the jury verdict.
"Our fight is far from over," Snyder said.
Hello, Goodbye?
The technology in question is used to link calls made over IP networks with phones on traditional phone circuitry. A successful injunction could mean that Vonage customers would only be able to call other VoIP users.
Vonage has not said whether it has an alternative technology, or workaround, to using the technology patented by Verizon and has repeatedly said it remains confident it will prevail on appeal. Vonage is expected to ask for a 120-day stay from any injunction, time that it could use to fine-tune any workaround that may be in development.
Vonage had been able to declare partial victory after the verdict, since it was not found to have infringed on all patents that Verizon claimed and because the $58 million payout was a fraction of the nearly $200 million the telecom giant had sought. The amount was lower in part because the jury had not found that Vonage violated the patents willfully.
Still, the prospect of an injunction loomed large over Vonage, with the threat of service disruptions at the very least likely to serve as a deterrent for would-be customers to sign up.
Not surprisingly, Vonage has been eager to reassure customers that their service will not be disconnected. The company has about 2.2 million subscribers, many of whom use the Web-based calling service as a replacement for traditional home landlines.
Wish Granted
Injunctions have become somewhat more difficult to obtain in general, but judges are using a recent Supreme Court ruling that suggests they are most appropriate in instances where two companies are directly competing against one another, intellectual property attorney John Rabena of the firm Sughrue Mion, told the E-Commerce Times.
Verizon was apparently able to convince the judge the firms were direct competitors, since Verizon offers an IP-based calling product. By some counts, as many as half of Vonage's subscribers were once Verizon customers, a data point that may further lend weight to the carrier's argument that an injunction is necessary.
The focus now shifts to Vonage's argument for why an injunction is too harsh a penalty. The firm will likely argue that it has a strong case for appeal — that some aspects of law or fact were handed wrong during its trial — and that having an injunction in place during that appeal would be inherently unfair, Rabena noted.
"If they did prevail, it would likely take two years, and having to try to re-enter a market after two years, especially one moving this fast, would be very difficult," he stated.
Other Challenges
The bad news for Vonage came just a day after it won a victory in a regulatory case, with a judge siding with the Federal Communications Commission and Vonage, which had argued that VoIP providers were exempt from state taxation of phone carriers.
Meanwhile, Vonage still faces a second patent complaint brought by Sprint Nextel. That case is slated to go to court this fall.
Even without the injunction from the Verizon case, the fiscal penalties were seen as a major drag on Vonage's quest for profitability. Last year, the company lost $286 million on revenue of $607 million and with Verizon in line to get 5.5. percent of all future revenues, profitability could be pushed back significantly, analysts said.
At the same time, Vonage's initial public offering was largely a disappointment, with the stock not only failing to take off due to concerns about its ability to compete with established telcos but actually falling below their offering price of $17. The stock has yet to recover to that level.
Even the IPO became a source of embarrassment and legal headaches for Vonage, with thousands of customers who had enrolled in a program to buy the shares refusing to pay for the stock after it dropped in value.