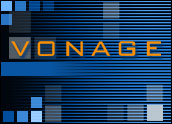 In another sign of the maturation of the Voice over Internet Protocol (VoIP) industry, Vonage filed Wednesday to stage a long-awaited US$250 million initial public offering and also installed a new CEO to guide the company.
If it pulls off the IPO, Vonage Holdings Corp. would become the first publicly traded Internet phone service provider and would also be armed with significant cash reserves to help boost its profile and take on much larger telecommunications firms now offering the same service.
Spending on Marketing, Technology
The company, which was founded in 2000, said it would dedicate a significant portion of the IPO proceeds to marketing while also working to refine the technology that powers its low-cost Internet calling plans.
"To grow our revenue and our customer base and enhance awareness of our brand, we have chosen to spend significant amounts on our marketing activities and we intend to continue to do so," Vonage said in its filings with the Securities and Exchange Commission.
Vonage also revealed in the filing that co-founder and current CEO Jeffrey Citron would step down. Citron will continue to serve as chairman but cede the CEO chair to Michael Snyder, a former president of ADT Security Services.
While it has helped revolutionize the telecom industry with catchy commercials and low-cost service, Vonage said in the filing that its financial losses continue to mount. The company said it lost $189.6 million in the first nine months of 2005 on $174 million in revenue.
Vonage said it now has about 1,400 employees and some 1.4 million customers, with its subscriber base tripling in 2005. Almost 95 percent of those customers are in the United States.
Closing Window
Vonage has grown rapidly in terms of membership as well, but its window of opportunity for claiming additional market share gains may be closing, telecom analyst Jeff Kagan told the E-Commerce Times.
"The big cable and phone companies are now offering this service and they have considerable market power to work with," Kagan said.
Those larger companies can also offer VoIP calling as part of a larger package of services. While they resisted the technology because it creates a business with wire-thin margins, larger telecom and cable companies now recognize the benefits of offering bundles of services. Meanwhile, Web services providers — AOL, Google, Microsoft and Yahoo among them — are angling to offer voice chat and phone services themselves.
"Smaller companies like Vonage can still have strong businesses, but their opportunity to be seen as the only providers is running out," he added. In fact, research firm IDC has predicted that incumbent cable and phone companies would end up with some 80 percent of the overall market for residential VoIP, leaving another 20 percent — still a massive market — up for grabs.
That may be lending some urgency to the IPO, though Vonage did not say when it would stage the offering, how many shares it would offer or other detailed information.
Vonage had been rumored to be eyeing an offering as far back as the summer of 2005, even as it was still raking in millions in venture backing. The firm has taken in some $400 million in venture funding and another $250 million in private financing meant to carry it over to an IPO.
Here to Stay
A Vonage IPO would reinforce how much the VoIP market has grown and matured, a message also sent by eBay's $2.6 billion purchase of Skype, another Internet phone provider.
Jupiter Research analyst Joseph Laszlo noted that one of the so-called "risk factors" that Vonage cites is the threat that broadband access providers might begin to refuse to let services such as Vonage on their networks.
In theory, those same providers could also begin to charge Vonage for using their networks, which would likely force the firm to raise its prices, though broadband network owners may be reluctant to act too forcefully with VoIP firms lest they stir regulators into actions.
Laszlo said even if Vonage is targeting a fraction of the market, it could still see exponential growth for some time, with Jupiter forecasting that 20 million U.S. homes will use some form of VoIP by 2010.
Vonage acknowledged, meanwhile, that the decision to replace Citron was driven in part by a desire to clear the way for the IPO by removing a potential distraction for investors and regulators. Citron was one of several executives of Datek Online accused of wrongdoing in connection with the Nasdaq Stock Market's Small Order Execution System.
"While we believe that these matters have not had a material impact on our business, they may have a greater impact on us after we become a public company, including by adversely affecting our ability to enter into commercial relationships with third parties that we need to effectively and competitively grow our business," the SEC filing reads. Citron reached a settlement that required him to pay $22 million and have limited stock-trading involvement going forward.
Some saw Citron as a better fit for a startup than a maturing company anyway. Since the work of proving the technology and the market has largely been done, as proven by the number of new companies entering the field, the move comes at the right time.