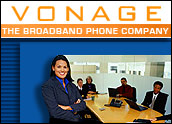 Internet phone company Vonage has secured US$220.3 million in credit in a deal that Wall Street sees as crucial to the struggling company's survival.
Proceeds will go toward paying off $253 million in debt on Vonage's books.
The $220 million deal was led by Silver Point Finance, a unit of Greenwich, Conn.-based hedge fund manager Silver Point Capital. It comes at a time of unprecedented turmoil on Wall Street and the tightest credit markets in decades.
Silver Point primarily invests in companies under some sort of financial duress.
Challenging Times
Vonage first announced a deal to pay off its debt last summer, but the harsh economic climate caused numerous delays in securing a definitive agreement.
"These have been very challenging financial times and the deal wound up taking longer than we would have originally envisioned," Charlie Sahner, a Vonage spokesperson, told the E-Commerce Times. "We're especially proud to reach a deal in light of the unprecedented volatility in the credit markets."
The deal with Silver Point Finance and others could not have come at a better time. The $253 million in debt that Vonage owes is set to come due on December 16.
"The $220M will be used to repurchase or retire that debt," Sahner said. "We'll still have a gap, which will be made up by cash on hand."
Sahner said that Vonage has about $150 million in cash in its coffers.
Vonage's Next Move
With the $253 million in debt about to come off its ledgers, Vonage can now turn its efforts to fighting off competition in the Internet phone market from players such as Comcast, Clearwire and Skype. Skype, a unit of online auctioneer and retailer eBay, enables users to make free phone calls.
"The deal provides clarity on our liquidity position and gives us the stability we need to keep moving forward," Sahner said of the $220 million financing.
However, he cautioned against expecting Vonage to make any risky moves into new markets.
"Right now, we're not going to make any dramatic leaps," he said. "[Vonage CEO Marc Lefar] is saying he wants to focus on our core business, so that the customers have the richest, most feature-filled experience they can have."
Vonage shareholders will meet Nov. 3 to vote on whether to approve the $220 million financing. Vonage, which is based in Holmdel, N.J., has about 1,500 employees and more than 2.6 million residential and business subscribers.