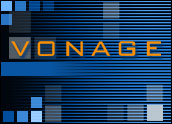 Investors in Vonage cheered Thursday after the embattled VoIP (Voice over Internet Protocol) firm's CEO said he would step down and the company pledged a "broad restructuring."
Michael Snyder resigned effective immediately late Wednesday, Vonage said, giving up both his CEO role and his seat on the company's board of directors.
Chairman and company founder Jeffrey A. Citron was appointed interim CEO, with a search beginning immediately for a replacement for the role.
Snyder "made valuable contributions to the growth of our business and we will miss him," Citron said.
Earnings Preview
Vonage also gave a preview of its first quarter earnings, saying that it had revenue of US$195 million and signed up 332,000 new customers, while losing about half that number for a net gain of 155,000.
The firm, which is operating under a stay of an injunction issued against it after a jury found it infringed on patents held by Verizon Communications, also said it would take steps to cut costs, shaving its marketing expenditures by one-fourth for 2007 and laying off about 10 percent of its workforce.
Vonage shares shot up by some 11 percent in the wake of the announcement to $3.33.
Costly Customers
Vonage spent an average of $275 for each new customer it acquired in the first three months of the year, the company reported. That means that at the basic rate of $24.95 per month, it needs to keep new customers for nearly a full year in order to surpass the break-even mark.
The restructuring includes a plan to sharply reduce marketing spending — which in the past has included highly visible television ads — from more than $400 million to around $310 million. Vonage is still seeking its first profits since its founding in 2001.
The restructuring may only matter if Vonage finds a way around the Verizon issue. Last month, Vonage was found guilty of violating Verizon patents covering technology used to link Internet calls to the traditional phone networks and methods of retrieving voice mail. The company was ordered to pay $58 million in damages and to give Verizon 5.5 percent of all future subscription revenues.
After the verdict, a district court judge issued an injunction and then put it on hold. Instead of instituting the full injunction, the judge issued an order that Vonage be barred from signing up new customers only. Vonage managed to get a stay of that injunction from an appeals court judge within hours.
Vonage continues to say it will prevail eventually in the legal battle with Verizon. The jury's decision against the company took an overly broad view of the patents in question and was "without precedent," Vonage Chief Legal Officer Sharon O'Leary said in a conference call Thursday. Those factors will weigh in Vonage's favor during the appeals process, she argued.
'Turbulent Waters'
In turning the reins back over to Citron, Vonage puts the company in the hands of its controversial founder. When it went public, Vonage warned that past accusations of fraud against Citron stemming from his role at Datek Securities when that firm was accused of securities fraud — charges later settled with the Securities and Exchange Commission — represented a risk factor for investors.
Snyder's abrupt departure is a stark reminder of the trouble the company is in, telecom analyst Jeff Kagan told the E-Commerce Times.
"It is always disturbing to hear about a CEO stepping down when a company hits turbulent waters, and Vonage has been in very rough waters lately," he said. "The latest news about Vonage has not been good for the company."
Vonage's ability to survive long-term remains an open question, even with the cost cutting measures in place, Kagan noted. "They have customers, but they have been spending way too much to get them," he added.
Customer Turnover
A key metric to watch is customer turnover. With the legal Sword of Damocles hanging over Vonage's head, many have speculated that customers would leave rather than risk having the service shut down. Much of that turmoil may not show up until next quarter's results are reported in mid-summer.
By then, Vonage will know if it has won a permanent stay of the injunction it faces — a hearing on that is slated for April 24. If it does, it will likely be preparing to have its appeal of the infringement verdict heard. If not, the company could again be facing the prospect of having its revenue stream slowly reduced as customers leave and new ones cannot be signed on to replace them.
There has been speculation that Vonage would become a takeover target if its price dropped low enough — it remains the largest independent provider of VoIP service in the U.S. and has a growing international presence — and becoming more financially sound may add to that appeal. Still, the legal woes facing the company will likely be a deterrent, Stanford Group analyst Clayton Moran told the E-Commerce Times.
"The risks associated with buying or even partnering with Vonage may be deemed to significant to overcome," he said, noting that Vonage still faces a patent claim from Sprint Nextel yet to go to trial.