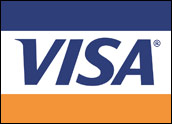 Visa announced plans Thursday to develop payment and payment-related services for both Nokia mobile handsets and those running Google's new Android platform. In addition, Visa announced a pilot program that enables U.S. Bank Visa cardholders to transfer money using a mobile phone.
The announcement looks to revive the efforts of credit card companies to push consumers toward mobile payments and mobile commerce, a concept that looked promising around the turn of the century but floundered in in the U.S. following the dot-com bust. Other efforts involving contactless payment devices in the mid-2000s also failed to gain widespread consumer adoption.
However, Visa's announcement could mark a turnaround.
"I definitely see the value in this from a functionality standpoint. Visa has been very calculated in establishing a much more global strategy surrounding the mobile channel. Rather than looking at an individual market and latching on to what's going on there, they are really trying to focus on the different things that are happening in different markets," Bruce Cundiff, a Javelin Strategy analyst, told the E-Commerce Times.
Android and Visa
Developing applications for the Android platform is central to Visa's mobile application push, the company said. The credit card company's mobile applications will enable owners of mobile devices running the Google operating system to receive notifications about transaction activity on their accounts; obtain offers from a wide array of merchants; and use Android's built-in location-based technology to map nearby merchants to redeem Visa offers as well as locate ATMs participating in the Visa network.
Chase Visa cardholders will have the first crack at the new mobile applications. Visa, however, said it will work to make the services available to account holders of other financial institutions. The credit card provider is also developing a payment application to enable Android device owners to make mobile payments at retail locations around the country and over wireless networks.
In its deal with Google, Visa is clearly banking on some level of success for Android, Cundiff said.
"[The Android platform] is still very new. There's just one phone out there that T-Mobile announced earlier this week, so that's about it. It's not as though Android has taken over as a viable platform. But, Visa jumping in at this early stage is definitely a leadership role that they need to take," he explained.
Consumers come out on top with both services because they add layers of protection against identity theft and credit card fraud, according to Cundiff.
"The ability to detect fraud and fraudulent transactions or even prevent it before it happens — involving the consumer in that process is paramount. What Visa is doing is really working at the transaction level — has huge implications for mitigating identity theft and fraudulent transactions. It also gives consumers peace of mind," he pointed out.
Mobile Money
Visa will debut its payment and payment-related services on the Nokia 6212 Classic starting in October. Consumers will be able to use their handsets to make contactless payments, remote payments, and money transfers to other Visa account holders; they will also receive near real-time alerts and notifications relating to activity on their credit card accounts.
Integrated Near-Field Communications chipsets (NFC) built into the Nokia 6212 make the contactless payment technology possible. To pay for a purchase, consumers will simply wave their handset within a few inches of a special point-of-sale reader to finalize the transaction.
"Nokia is doing a lot of near-field communication stuff. But contactless payment has to develop a bit [before it is widely adopted by consumers]," said Tole J. Hart, a Gartner Research analyst.
Credit card companies have to build use cases where it's more convenient than using cash or a debit/credit card. With a mobile phone, it should help out because people carry their cell phones everywhere, he told the E-Commerce Times.
"This should help that, but there are other things that are more interesting that it can be applied to, like purchasing things from the Internet on a mobile phone. Receiving discounts is relevant, and the location thing will work. They are [reasons] for customers to adopt this. They will only do so if they are easy and more convenient to use.
"They have pulled this all together in a nice package, and that's a good thing for them," Tole concluded.