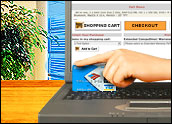 The entire United States is debating whether the country is in the midst of an economic slowdown. Some of the signs are fairly explicit: steadily rising gas prices and their cascading effects on the average consumer, unemployment rate bumps and the continued fallout from the housing market bubble.
Independent of which side of the debate you fall, there is one sector of the business world, outside of the oil industry, that continues to defy even the toughest economic naysayer: online businesses. These online merchants span diverse markets, from Software as a Service (SaaS) to online gaming, to social networking and even downloadable entertainment.
The leading companies in these various groups show impressive increases in customer acquisition, revenues, profits and valuations, and many of these companies have built their businesses on top of a recurring subscription model through which customers pay a fixed amount every month or year.
The success of these merchants has a lot to do with the fact that they've focused on building what I call "a long-lasting commerce model." The Internet is truly enabling a major shift from the physical consumption of goods and services to their intangible consumption. From a business perspective, this shift initially began in the late 1990s using the catalog/mail order concept as its primary analogy. However, the focus on replacing retail and mail order with online commerce is not the most revolutionary change. The more profound is the online delivery of the good or service.
A Different Experience
A commerce model is a holistic look at how both the merchant and the consumer interact with each other. As such, it can be distinguished from its companion business model, online advertising, in which the interaction between merchant and consumer is somewhat independent of the "money flow."
In the past, the focus has been on driving a consumer to a single purchase and then hoping to obtain a repeat or a "same-store sale." However, the Internet enables — and, frankly, demands — a dramatically different experience for merchants and for customers. Today's commerce models are mutually beneficial in that they alter the way in which transactions and consumption occur, and move the focus to relationships and customer lifetime value, and away from onetime purchases. The commerce world is one in which a core set of characteristics is at the root of merchant success or failure.
Analyzing Customer Friction
The notion of obstacles placed in front of a customer interested in consummating a transaction with a merchant is friction. For merchants, convincing fickle customers to try, much less buy, a product is always difficult, and the actual online buying process remains cumbersome for both sides of the purchase. Adopting new commerce models that allow options like "payment method required" free trial and recurring billing address both issues. Customers get a lower cost opportunity to try new services and implicitly price the value of being "ad-free." Having more predictable customer sign-ups and lengthier customer lives instead of fickle "same-store sales" opens your customer acquisition budget to larger per-customer spending with dramatically better insight and results.
Gauging Consumption
Customers around the globe "consume" products and services using a variety of online payment methods — credit cards, direct debit, ACH (Automated Clearing House), PayPal, purchase orders and others. The breakdown in geographic barriers with the advent of the Internet has led to an increase in infrastructure complexity as merchants work to keep pace and support these different consumption patterns — a key requirement to remaining competitive and broadening customer reach. In addition, the global transactions inherent in these new commerce models also allow merchants to split their business into two core areas: customer acquisition and customer retention.
One of the biggest changes on the customer acquisition side is that the economics of fraud and transaction risk change. No longer is the focus on whether you will lose the onetime cost of the initial sign-up transaction. Instead, the focus must be on the false positive rate of screening as the money you lose is the average customer lifetime value. On the customer retention side, your base of predictable recurring revenues allows you to be more experimental and aggressive in customer acquisition as you can afford higher chargeback rates from your acquisition pipeline. Coupled with excellent chargeback management on the back end to keep your costs in line, your acquisition pipeline can now tolerate an expanded chargeback rate.
Nurturing Relationships
Creating lasting customer relationships that span dozens if not hundreds of individual transactions is the ultimate goal of every online merchant. Doing so is far more complex and requires much more than relying on customer relationship management tools — it involves understanding issues surrounding merchandising, fraud control and even customer communications.
In the past, businesses would often — and could afford to — place a year of development work into a product launch that had seasonal deadlines with really only one window in which to capture the majority of purchases. In today's new commerce model, product development becomes incremental with the goal of simply creating positive responses from your existing and tightly held recurring customer base. In addition, you now have the ability, through an incremental feature model, to not only maintain but also strengthen those relationships by offering tastes of new features — some included and some teasers for higher value price plans — with known excellent customers, and without additional customer acquisition costs. Also within this new model is the real ability to maintain market share and lessen competitive threats.
Transitioning to new commerce models or expanding your existing efforts can lead to significant increases in revenue, profit, customer satisfaction and predictability of your cash flows and scaling costs. These models better align your business and your customers' needs to make your business even more responsive to the market for your goods or services, and — in today's tough economic climate — help make it recession-proof.
---
Gene Hoffman Jr.
is chairman and CEO of
Vindicia
, a provider of payment management services for online merchants.
---