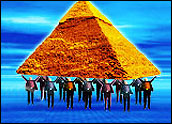 With the advent of new personalization technologies and the integration of user-generated content, social networking, RSS (really simple syndication) feeds, multichannel interaction and Ajax-based user interfaces, online retailers are rushing to upgrade their e-commerce sites to provide better user experiences and increase customer acquisition, retention and loyalty. These upgrade projects can be large and often involve deploying a new e-commerce platform.
The success of an upgrade project begins with a good project plan. However, unexpected events can happen, especially in large projects. Despite the perfect plan, a project can fall significantly behind schedule, resulting in a loss of time and money. The capacity to have visibility into unplanned issues and then adapt the plan to respond to these issues can enable the project manager to bring the project back on track — and therein lies the challenge.
Traditional project management tools were not designed for this since they enable you to create a good project plan — that gets you 20 percent of the way — and the rest depends on seamless execution, which they do not address.
Challenges With Traditional Project Management Systems
A desktop-based project management system is not well-equipped to drive flawless execution. Systems are usually designed for full-time program managers, and its complexity can be frustrating for line-of-business managers, for which managing projects is only one of the several things they do on a daily basis.
An e-commerce project is likely to involve internal employees from IT, marketing and merchandising, as well as external consultants from the design agency and the e-commerce vendor. The project manager typically spends a few valuable hours every week chasing team members to gain visibility into the status of their tasks so they can establish the current status of the project. If there are any surprises, the manager creates a revised plan and then spends an inordinate amount of time communicating the new plan back to team members, so everyone knows the new schedule and due dates.
This process alone can become a huge drain on time if the team is distributed across multiple time zones or organizations due to a combination of offshoring and outsourcing. The traditional project management tools were designed in a pre-Internet era, to be used by the project manager on their laptop/desktop.
They do not have the capability to automatically query team members in the background and capture the status of their tasks, so when the manager looks at the project status, the project status is always up to date. Such a capability can free many hours every week from a project manager's busy schedule for higher value-added tasks.
Working Together Efficiently
One of the biggest reasons that e-commerce upgrade/implementation projects are delayed is because the various team members are not on the same page. The project manager must ensure that not only each team member clearly understands their tasks, schedules and dependencies, but they all must also be on the same page with respect to project specifications, revisions and assumptions. It is also critical that when a new member is added to the team, they can come up to speed on all these very quickly, but they also understand the context for some of the decisions that were taken in the past. Only when everyone is on the same page and is executing to the plan do the odds of an e-commerce project becoming a success increase significantly.
The traditional project management tools are weak on ensuring everyone is on the same page. Content such as project specifications and revisions and context — such as assumptions and acceptable shortcuts — are stored in different places like personal e-mails and file folders on the laptops. A team member has to take the initiative to check with team members and ensure that his assumptions are not incorrect, while working on a task.
A variety of combinations of these issues makes it very challenging for managers to ensure very good execution of their projects with desktop-based project management systems. The convergence of SaaS (Software as a Service) and Enterprise 2.0-based collaboration technologies has produced the next generation of project management applications that support this new way of working and are designed to specifically address the project team execution problems.
The Next Generation of Project Management Systems
Enterprise 2.0- and SaaS-based project management systems leverage e-mail as a mechanism to automatically query team members and capture the status of their tasks. Project tracking becomes automatic, and managers save valuable time by not having to chase team members to understand where they are within their tasks. The solutions also provide instant updates and highlights to allow managers to stay on top of a project's ever-changing status and proactively address potential issues. As a result, such systems significantly reduce unpleasant surprises.
These solutions also leverage team-sharing technology to share documents, notes and discussion threads with each work item. This provides team members with an easy way to share their knowledge and be in sync. As a result, everyone on the team is on the same page.
Taking advantage of a SaaS delivery model, the always-on Internet access ensures that team members can access project plans, task schedules and associated documents anytime — regardless of geographic location or the organization they belong to or their business travel schedule. This not only makes it easy for the team to work together, but it also makes it very easy to integrate new team members into the project.
In e-commerce upgrade projects, in which on-time completion can become a source of competitive advantage in a crowded market, team execution is a key ingredient for successful completion. By leveraging Enterprise 2.0 technologies — such as team collaboration and a SaaS delivery model — the next generation of project systems provides a significant advantage for companies in completing their complex e-commerce projects on time and increases their competitive edge.
---
Avinoam Nowogrodski
is CEO of
Clarizen
, a provider of project execution solutions.
---