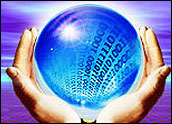 Technology research giant Gartner released a list on Wednesday of the top 10 technologies that will dominate the landscape for the next three years.
The release comes at a jittery time for technology stocks and early stage startups alike. The tech-heavy Nasdaq National Market plummeted 8.47 percent Wednesday and was down another 1.6 percent in early trading on Thursday. Meanwhile, the Dow Jones Industrial Average, which counts tech industry stalwarts such as IBM, Microsoft, HP, Verizon, AT&T and Intel as its components, fell 7.87 percent Wednesday and was down an additional 2.4 percent at press time Thursday morning.
Gartner's top 10 technologies list comes just one day after the research firm cut its 2009 outlook on growth in information technology spending from 5.8 percent to 2.3 percent.
Despite the turmoil on Wall Street, Gartner's list suggests that innovation in the technology sector never really stops.
The Top 10 List
Here are Gartner's top 10 technologies:
Virtualization
Cloud computing
Servers
Web-oriented architectures
Enterprise mashups
Specialized systems
Social software and social networking
Unified communications
Business intelligence
Green IT
What the Market Says
Members of theSoftware Information Industry Association have been buzzing about a number of the technologies Gartner outlined in its report, Ed Keating, vice president of the association's content division, told the E-Commerce Times.
"Social software and social networking are big," Keating said. "We've got members in the [business-to-business] space that are really exploring how to create and tap into social networks. They're also building communities for professionals to answer questions and accomplish things they haven't been able to do before."
Another popular technology getting attention from SIIA members is enterprise mashups.
"Mashups allow for the pooling of disparate sources of data that are then used to create a new product or tool," Keating said.
For example, an organization might take the crime statistics in a big city like Los Angeles or New York and combine that data with Google Maps in an effort to show which neighborhoods in those places have the most violent crime.
While that's an example of a consumer-oriented mashup, large companies are trying to do the same thing for business purposes, Keating said.
Also resonating with SIIA members is business intelligence — the use of information that helps companies devise their strategies by analyzing trends.
"A lot of effort is going into what it is a strategy manager needs to know, what trends they're following and how software can help them put it all together and enhance that process," Keating said.
F5 Networks and HP
Two companies in the thick of several of the technologies outlined by Gartner are F5 Networks of Seattle and Palo Alto, Calif.-based HP.
"So much of the list I read over had to do with Web-oriented applications," Lori MacVittie, technical marketing manager at F5, told the E-Commerce Times. "There's a benefit for us in pretty much all of them."
F5 makes software-powered hardware devices that act as a sort of Internet traffic cop for large server networks, providing load balancing, network optimization and acceleration.
Cloud computing — whereby companies make their applications available to employees and other users over the Internet in an easy-to-access and elastic manner — is getting a lot of interest from F5's customers and partners, MacVittie said. The benefit for businesses is they don't have to host heavy applications on their own networks, reducing the need for server space and maintenance.
"Cloud computing helps businesses to scale the applications they're providing to their customers," she added. "We're seeing a lot of interest in this. We can actually help the provider automate the processes of bringing new applications online in real time. Cloud computing is being pushed hard because of the demands for on-demand Software as a Service."
Another area in which F5 is heavily invested is virtualization.
"We've been doing server and network virtualization for a long time," MacVittie said. "Basically, we have server products that can make one big server act like a hundred servers. You can consolidate servers and it lowers operating costs involved with cooling, heating and providing power to customer server networks."
Virtualization Momentum
Gartner's outline of soon-to-be-dominant technologies looked familiar to Paul Miller, vice president of marketing and strategy of enterprise storage and servers at HP.
"This reads like our planning road map from the last few years," Miller told the E-Commerce Times.
Like F5, HP has made significant investments in the virtualization of its various server technologies and cloud computing.
"We've been driving virtualization very hard in the last few years," Miller said. "A lot of people think of virtualization as software that allows you to run multiple applications on a single server — but what Gartner's writing about is that plus the virtualization of [data] storage. We've got unique [intellectual property] that just launched in that area."
HP also has a dedicated engineering and marketing unit for cloud computing.
"The growth in this business is in the double digits," Miller said. "This is a definite area of growth for us. It's about helping customers build clouds within their own organizations."
To that end, HP launched a new product last summer called a "performance optimized data center," or "POD." A POD is basically a 40-foot shipment container for customers running out of floor space for large racks of servers.
"These things can hold up to 12,000 hard drives and it's a really compelling offering for some companies," Miller said.