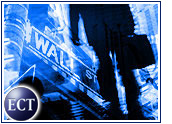 Viant (Nasdaq: VIAN) fell 13 U.S. cents to $2.31in morning trading Tuesday after the Internet consulting company said it cut 211 jobs, or 38 percent of its workforce.
The move will result in a $13million to $17 million charge to first-quarter results, according to Viant.
Viant said it is closing its offices in Houston, Texas; San Francisco,California and Munich, Germany as part of a plan "to address theincreasingly challenging demand environment."
Viant said it expects to have about $165 million in cash on hand as of March 31st, the end of the first quarter.
Revenue for the quarter will total $14 million to $16 million, with a lossper share of 33 to 36 cents before restructuring charges, Viant said.Analysts had expected the company to lose 20 cents per share.
Viant also said that its chief business development officer, Sherwin Uretsky, has resigned.
Also on Tuesday, Viant said it adopted a shareholder rights plan designed todeter unsolicited takeover offers. The company said the plan was not adoptedin response to a specific bid.
Viant reported a fourth-quarter loss of $7.1 million, or 14 cents per share,before charges relating to previous job cuts and office closings. In the1999 fourth quarter, the company earned $3.7 million, or 7 cents per share,before charges.
Viant closed its Dallas, Texas office last year, cutting some 17 percent ofits workforce in the process.
Shares of Viant, like others in the Internet consulting business, haveplunged in value over the past year as clients cut back on technologyspending. Viant is down from a 52-week high of $42.69, set last July.