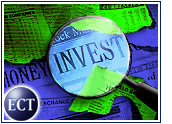 VerticalNet (Nasdaq: VERT) fell to US$3, dropping 53 cents, in morning trading Friday, after the e-commerce companyreported a wider loss for the fourth quarter ended December 31st and saidit expects a loss for the current quarter as well.
Credit Suisse First Boston reportedly downgraded VerticalNet to buy fromstrong buy following the news.
VerticalNet said results exclude the operations of NECX, a subsidiary soldduring the quarter, while analyst estimates are based on results includingNECX, so comparisons are "not appropriate."
Despite the loss, chief executive officer Mike Hagan said the company is in a good positionfor the year ahead.
"The sale of NECX enables us to focus on high-growthmarkets and leverage our core expertise," Hagan said.
VerticalNet, which provides business-to-business (B2B) software andservices, said revenue for the latest quarter totaled $40.7 million, up 424percent from a year earlier.
The loss before non-cash expenses and othercharges totaled $28.5 million, or 32 cents per share, compared with a lossof $10.3 million, or 14 cents, in the year-earlier quarter.
The first-quarter loss, before restructuring charges, will total $28.5million to $31.5 million, or 29 to 32 cents per share, with revenue of $34million to $37 million, according to VerticalNet.
Restructuring charges will knock $2 million to $3 million, or 2 to 3 centsper share, off first-quarter results.
VerticalNet said it had $145.2 million in cash and marketable securities atthe end of the quarter, with long-term debt of $22.7 million. The companysaid it expects to "achieve cash profitability" in the fourth quarter ofthis year.
The company said it expects a cash loss for the year as a whole of $60 million to $70 million, or 60to 70 cents per share, on revenue of $220 millionto $230 million.