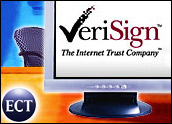 Continuing its transformation into a network security and services provider, VeriSign agreed Tuesday to buy privately held network security firm Guardent in a deal valued at US$140 million.
The stock-and-cash agreement calls for VeriSign to take over all 150 of Guardent's full-time employees and to maintain Guardent's Security Operations Center in Providence, Rhode Island. Guardent's security consulting group will be integrated into VeriSign's own consulting wing.
VeriSign said the acquisition will not have an immediate impact on its earnings and added that it will provide more detail about financial ramifications when the deal closes in the first quarter of 2004.
In a statement, VeriSign CEO Stratton Sclavos called Guardent "a perfect strategic fit" with his company's new focus on network services.
"By tapping into Guardent's expanded customer base, its vulnerability management technology, and security expertise, we can deliver an even wider base of intra-enterprise, inter-enterprise, and Internetwide intelligence," Sclavos said.
Shifting Directions
The move comes two months after VeriSign sold its Network Solutions domain registration business, which it paid dearly for during the dot-com boom, to a group of investors at a fire-sale price. Instead of focusing on domain registration, VeriSign has steered toward providing domain management services for enterprises while also focusing on its secure-payment business. which analysts see as a natural segue into more security offerings.
Guardent CEO Maria Cirino will be kept on to head up VeriSign's managed security services unit, according to VeriSign. She said the deal will benefit both companies' customers.
"All customers will benefit from an accelerated pace of innovation, operational enhancements and global expansion," she noted.
Consolidation Aplenty
VeriSign's acquisition reflects a desire among large enterprise customers to be able to purchase more network services from a single provider, rather than going through the process of vetting and selecting vendors for various levels of security. Network Associates has led the way in this trend, purchasing several smaller security firms that gave it instant access to managed security services, among other products and services.
Gartner analyst Kelly Kavanagh told the E-Commerce Times that smaller companies often are seen as having more robust solutions, but they are also a risk for enterprises because their financial futures can be cloudy.
"Guardent gains a well-respected, name-brand ally, and VeriSign picks up a company that has a solid reputation in the security space," Kavanagh said.
The fact that VeriSign plans to keep Guardent's staff in place shows the respect the company has for the smaller firm and indicates it understands that enterprises want to see Guardent remain intact. VeriSign is a relative newcomer to the managed security services field, though it did score a high-profile customer win earlier this year when Merrill Lynch announced it would use VeriSign's service.
"Guardent gives VeriSign more credibility, and if they dismantle the company right away, they lose that benefit," Kavanagh noted.
Shares of VeriSign lost about 2 percent in early trading Wednesday, falling to $15.16.
Controversial Moves
VeriSign has been in the news often this year.
Although its decision to sell off Network Solutions indicated a willingness to cede the now-competitive domain-registration business, VeriSign has made headlines in recent months with its controversial SiteFinder service, which redirected Web users who mistyped URLs to a VeriSign-branded page.
Under pressure from consumer groups and the Internet's governing body, the International Corporation for Assigned Names and Numbers (ICANN), VeriSign suspended the service. The company has not ruled out reviving SiteFinder, however.