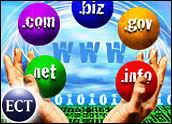 VeriSign has announced it plans to sell its Network Solutions business unit to Pivotal Private Equity, a Phoenix, Arizona-based firm known for acquiring underperforming companies, for approximately US$100 million.
According to VeriSign, $60 million of the deal will be in cash, with the remaining $40 million in a senior subordinated note. VeriSign, which will retain a 15 percent stake in Network Solutions, expects the deal to be completed during the company's fourth quarter.
Gartner principal analyst Ted Chamberlin told the E-Commerce Times that Network Solutions, which VeriSign purchased in 2000, has been dragging down the company's revenues; therefore, divesting this domain-name service makes sense. Because of the present economic climate, he said, Pivotal was able to acquire Network Solutions for pennies on the dollar.
Two Pivotal Reasons
For his part, VeriSign spokesperson Tom Galvin told the E-Commerce Times that VeriSign decided to divest itself of Network Solutions because it no longer fit into VeriSign's long-range business strategy of providing critical infrastructure services to its clients.
Galvin said his company's critical infrastructure services are composed of telecom services, security services and naming and directory services. With these services, VeriSign provides business assurance to large corporations by managing their hundreds, sometimes thousands, of domain names and by making sure these companies' DNS Web site architectures are running properly and continually.
"We help support the underlying infrastructure commerce and communications to take place," he said. "We're sticking to what we do best."
According to Galvin, VeriSign also was concerned about finding a good home for the employees that will remain with Network Solutions. He said he believes that in selling the business unit to Pivotal, VeriSign has accomplished that goal.
Good Riddance
Gartner analyst Chamberlin said that owning Network Solutions put too much on VeriSign's plate, preventing the company from doing anything well. He added that many of Gartner's clients have complained in the past about VeriSign's poor service in a variety of situations, such as losing their domain names.
In addition, because VeriSign was running both a registrar service and a domain name registry that includes the popular .com top-level domain (TLD), along with .net, .tv, and .cc, competitors complained the company had an unfair advantage, Chamberlin said.
As a result, he noted, the Internet Corporation for Assigned Names and Numbers (ICANN), a nonprofit organization that has monitored TLDs as they have transitioned from government to private control, has long scrutinized VeriSign's actions, hobbling it as it tries to innovate new products and services. VeriSign's recent run-in with its SiteFinder service likely did not help matters.
Revenue Generators
Chamberlin said VeriSign's decision to focus on managing the domain-name portfolios of Fortune 1000 companies has the potential to generate strong revenues, but he cautioned that the company will have to build its business incrementally because it has burned many bridges with customers in the recent past.
In addition, he noted, VeriSign still generates revenue from its maintenance of the domain root structure for its TLDs.
When any other registrar signs up a domain name that employs a VeriSign-owned TLD, the registrar pays VeriSign around $5 per domain-name year, depending on the contract with VeriSign.