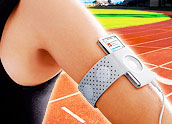 Browse any mobile app store and you'll find a number of apps relating to monitoring activity and tracking fitness while you work out and train. Shelf space is increasingly dedicated to fitness-related gadgets including activity monitors and other workout gear. Now there are massively multiplayer-style games to complement the fitness games published for console games.
Fitness infused with technology has turned into a big business, and companies are getting venture funding to bring their products to market.
All of these gadgets and software fall into a new category called Health 2.0, or Quantified Self. "There wasn't a name for it two years ago, and now there's verticals within this domain," Mike Dodd, partner at Austin Ventures told the E-Commerce Times.
Austin Ventures is one of the lead investors of the app MapMyFitness, which got its latest round of funding from an additional investor this past July.
Healthy Incubator
Many companies in the Quantified Self category get their start with help from incubators or venture capital firms. While incubators such as TechStars and Y Combinator provide seed funding, the startup accelerator Rock Health emerged to provide seed funding for digital health, Health 2.0 and Quantified Self companies.
Rock Health has provided incubation and seed funding for companies including AchieveMint, Cardiio, HealthRallyand BitGym.
Quantifying Quantified Self
In the past two or three years the Quantified Self category has spawned a number of verticals. It encompasses health, but also fitness. Among the fitness categories there are activity monitors, heart rate monitors, sleep trackers, and apps that do all of those things.
"There's hundreds out there at this point," said Dodd. "The category has gotten so big that there is a specific domain for Quantified Health."
While the fitness category is growing, it speaks to a larger story of health. Technology has opened new possibilities for people to take charge of their health, and they're looking for devices and apps to help them do it.
"There's a general consensus that we need to do more about personal health. We're seeing the rise in healthcare cost and people are living longer," Jacob Brody, partner at the venture capital firm MESA+. The firm just participated in a round of funding for startup FitStar, a company building a platform for fitness-related content that will work across platforms and with many devices.
FitStar is not releasing very many details about its platform, but it is expected that FitStar will tie together video content such as workout routines with data from wearable activity monitors such as FitBug, a Nike Fuel band or Jawbone's UP band. The platform will integrate data from several sources to provide one profile and a consolidated progress report for users.
"Unlike a lot of apps that connect to only one device, we're going to have a pan-device setup, instead of being siloed," FitStar CEO Mike Maser told the E-Commerce Times.
"All these things give people the opportunity to create a fitness experience," said Brody. "We haven't had an innovation since Jane Fonda launched her video 30 years ago."
Funding Fitness
Venture capital firms are looking for the next big innovation, but they don't open their checkbooks unless they think an individual company will come through with a return on investment. Fitness has become a trend to watch, and is getting VC dollars.
"We think that fitness in general will play a big part in next generation media," said Brody.
The company and the people behind the company have as much to do with securing backers as the space the company operates in. FitStar is a prime example.
"These guys are veterans, they have done this before," said Brody. "We really believe that they're going to produce an amazing product."
There are different ways to raise capital, and many startups are turning to crowdfunding and other means to get started. FitStar decided it was necessary to bring in venture capital to get off the ground "because production value matters so much in our product experience," said Maser.
FitStar plans to use its cash infusion to grow the team to fill development and design roles, and help support the launch of its first product, which is expected some time in the first half of 2013.
Several venture capital firms seek to fund companies in the category, but both sides have to find a match that works for them.
"I think there's a lot of fitness app and device companies coming to market," said Maser. It's super interesting, and we love that that's happening because we really want to sit on top of those hardware devices. "
The Data Issue
You might not realize it when you put on an activity monitor and go for a run, but you're generating data, and that's an asset of the company. The data is used to help measure activity, determine when a use reaches goals, and gives status checks along the way. But that data can also be used for more than just reporting back to the users.
"We have all the fitness data, workout data, yoga data … for the past three years," said Dodd, regarding MapMyfitness. He says there are a handful of billion-dollar industries such as Nike, Underarmor and others who have a marketing use for the data.
"These adjacent kinds of markets, whether its wireless, healthcare, the fitness endemics, they're realizing that this Health 2.0, Quantified Self market generates data. They realize there's a ton of value there, a huge opportunity," said Dodd.
While data may be a nice byproduct, it is secondary to a company like MapMyFitness. "The primary focus of MapMyFitness is the delight, to help fitness customers track their fitness. If we do that well, then everything else falls into line," Dodd said.
Smart Fitness
The smartphone, and GPS-enabled smartphones power much of the Quantified Self market.
"There's a huge tailwind behind it. It's the convergence, the big propellant is the smartphone, and the GPS-enabled smartphone, the app store, now people are becoming aware that they can track activity about their health, and they can do it for free," said Dodd. "It's become a huge trend."